Splash water test chamber SWT200/400

Ingression of water into enclosures is tested. In conjunction with a timer, the test cycle can be automated with a settable test time of 3 sec. to 30 h.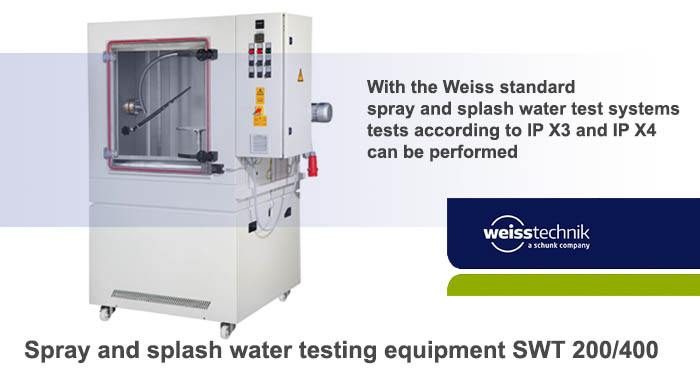 According to DIN VDE 0470 T1 or EN 60529 for testing to protection classes IPX3 and IPX4.
Thanks to the integrated circulation equipment, water consumption can be reduced to a minimum.
Picture shows Test Chamber with options!
Application
IP X1, IP X2 Dripping unit


IP X3, IP X4 Nozzles, Sprinkler


IP X5, IP X6 Jet nozzle


IP X9K High pressure nozzle
Features

Glass door with wiper


Pneumatical drive of swivel tube


Adjustable swivel angle


Replaceable swivel tubes


Nozzle fittings can be swivelled and replaced


Adjustable water volume flow and measuring


Control of test duration