The new Eco range from weisstechnik – standard Environmental Testing Chambers
Are you looking for a simple, cost effective solution for your environmental testing needs? Then the new Climate Test Chambers ClimeEco is the chamber for you.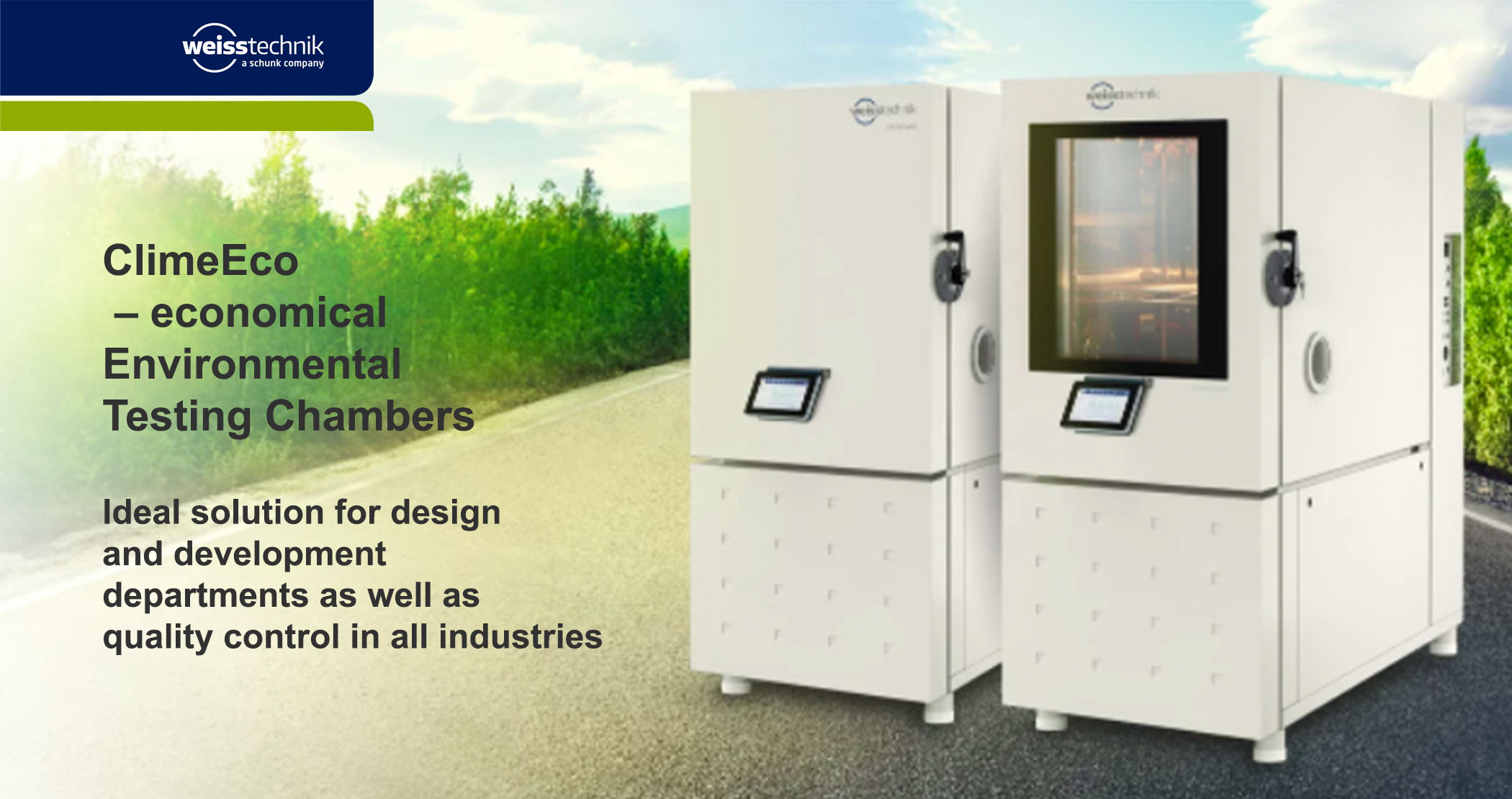 The new ClimeEco family of economical Environmental Testing Chambers impresses due to its performance, its simple design and its availability. Test your products with ClimeEco to ensure that their function and performance can be maintained over their expected lifetime and under typical climate conditions.
Applications 
ClimeEco is an ideal solution for design and development departments as well as quality control in all industries – especially food production and cosmetics.
Ask us about configuring your own ClimeEco today!
The functional all-rounders for your standard tests. 
Many environmental simulation tests have to be highly standardised. This is exactly what our new ClimeEco is designed for. The proven technology ensures, temperature and humidity tests meet European quality standards.
Available in no time at all – Simply order and start testing!
Your standards compliant tests
 Low temperature tests
 High temperature tests
 Temperature change tests
 Constant climate tests
 Climate change tests
Your benefits
Standardised – tests for constant climates, temperature change, heat and cold
Precise – reliable reproducibility
Economical – sufficient equipment at an attractive price
Clever – automated test sequences
Best service
Become more efficient.
With ClimeEco you will save time and money. 
Functional
Compact equipment with clear design
Simple and easy operation
Low investment costs
Standardised
Uniform design with full temperature range
Uncomplicated selection of standardised packages
Fast delivery
Reproducible
Reliable coverage of common standards
Precise implementation of test standards
Service–Helpline ensures smooth operation

ClimeEco test chamber data sheet
Test space volume (litre): 180, 340, 600, 1000, 1500

Minimum temperature (temperature range up to 180 °C): –40,  –40 and –70

Temperature change rate (K/min): 3

Humidity range (% RH): +10 to +98

Dewpoint temperature range (°C): –3 to +92

Humidity constancy, in time (% RH): ±1 to ±3

Temperature constancy, in time (K): ±0.1 to ±0.5

Temperature homogeneity, spatial (K): ±0.5 to ±2

Heat compensation climate test (W): 300, 400