Global UV testing systems
Systems for the simulation of exposure of plastic material to temperature, climate, rain or acid rain in conjunction with global radiation in the spectral range from 290 to 450 nanometres.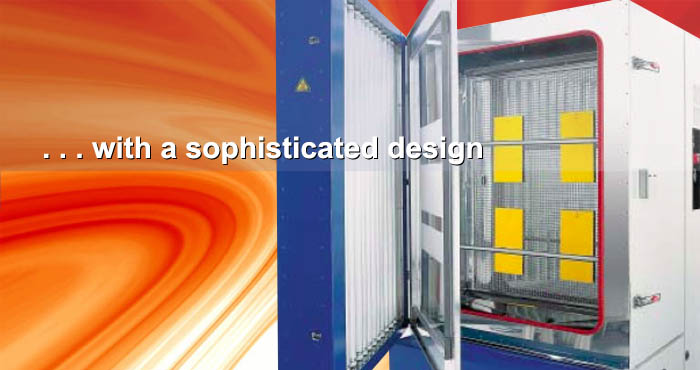 Main advantages
Complete radiation system in the door (also ballast units)


Radiation device is switched off when the door is opened


Vertical fluorescent tubes, cooled by circulating air, tubes are easy to remove and to clean


Dimmable ballast units compensate ageing of lamps


Lamps can be switched on and off via the colour touch panel
Technical specification
Temperature range -20 ... +80°C (with radiation -10 ...+80°C)


Humidity range 10 ... 95% r.h. between +10... +80°C


Radiation wave length 270 ... 400 nm


UV-Intensity 10% based on the area of 900 x 700 mm


Control system: Controller Board SIMPAC with Color Touch Panel.

 
UV test chamber – Environmental simulation UV systems satisfying the highest standards – Further development of tried and tested technology 
Aided by a profound understanding of the essential, functional require- ments were harmonised with an attractive design in the further development of the Global-UV test unit.