Walk-in test chambers for stability testing according to ICH Guideline Q1A
The extremely accurate and reliable stability test chambers of Vötsch Industrietechnik can be validated and are designed specifically to help you meet the requirements of the ICH Guideline Q1A.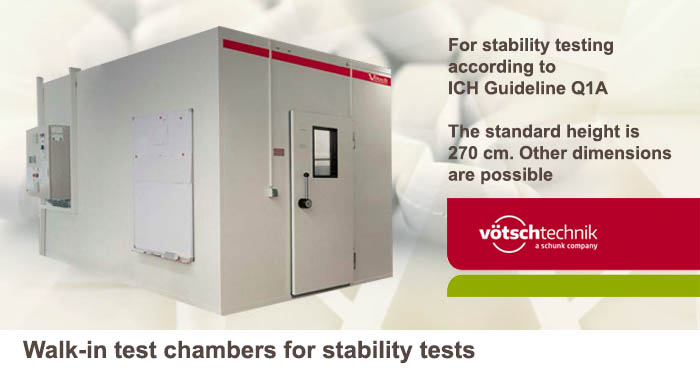 The insulation elements of the walk-in test chambers for stability tests can be optimally adapted to an existing building structure since adherence to standard dimensions is not necessary. The standard height is 2700mm; other dimensions are possible. Chamber volumes from 10 up to 300m2 can be supplied by Vötsch Industrietechnik.
Standard scope of delivery
An excellent mechanical rigidity and optimum thermal insulation are ensured thanks to PU insulation chamber elements (CFC-free) with easy-to-clean, corrosion resis- tant double sided metal plate coating. Panels on the in- side and outside are painted RAL9010.

Insulated heavy duty floor construction covered with slip resistant, chequered plate stainless steel.

Lockable test chamber door with insulated observation window and emergency opening facility. The door frame heater prevents the forming of condensate during high humidity operation.

A pressure relief valve is fitted to the chamber wall.

Heating and cooling system consisting of ceiling evaporator with integrated electrical heater and air-cooled refrigeration unit.

Powerful axial fans ensure continuous intensive air circu- lation as well as uniform air distribution and temperature conditioning.
Climate conditioning system with energy saving ultra- sonic humidifier and separate dehumidifier.

Micro-processor controlled control system corresponding to GAMP-GUIDE and FDA 21 CFR Part 11 and EU GMP Annex 11, with maintenance-free electronic temperature/ humidity sensor.

Fully integrated user management in the control panel.

The switch cabinet incorporates the complete electrical section with fuses, protection-, switch-, control-, and regulation appliances. Wiring and electrics are strictly conform to safety regulations for electrical installation and materials acc. to the European Machinery Directive.

Safety temperature limiter for electrical heater and test

Specimen protection thermostat tmin / tmax and over humidity protection.

Multi language touch panel (German, English, French, Spanish, …).
Most important options
Software package SIMPATI Pharma for recording and processing of measurement values

Integrated Datalogger

Networking of several systems

Serial interface RS 232 C

Additional temperature and / or humidity sensor

Acoustic and optical warning signals

Refrigeration unit, water-cooled

Connection to customer provided chilled water circuit (e.g. +6°C)

Additional entry ports
Demineralisation unit with exchangeable cartridges for connection to local water supply

Constant temperature chamber (without controlled humidity)

Shelf systems

One-point calibration

Spatial calibration

Qualification documentation for equipment and SIMPATI software

Special voltages

Analog outputs

Maintenance contracts with definded response time

Further options available on request