Stability Testing – GMP and FDA compliant reliable solutions for the pharmaceutical Industry
In the ICH Guideline Q1B the methods for performing photostability tests are established with an irradiation dose of 1.2 million lxh and an integrated UV part of 200 Wh/m2.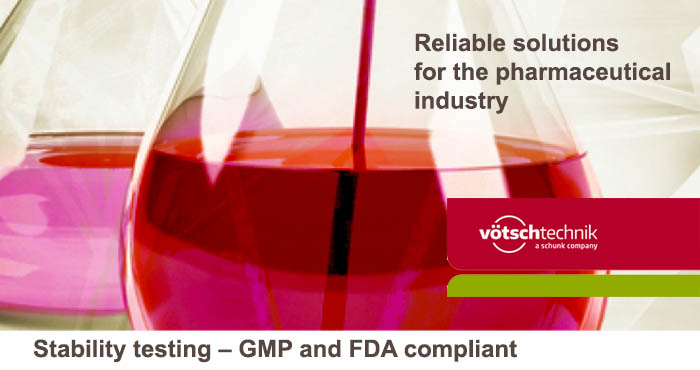 As quality criteria of the stability tests the stability of chemical, microbiological and physical characteristics of pharmaceutical substances are tested after exposure to the influence of temperature and humidity over a defined period to determine the shelf-life time. To that end, the following climate conditions were established for long-term testing, accelerated testing and testing at intermediate conditions according to the ICH Guideline Q1A.
General case
Long term 25°C ±2°C / 60 % r.h. ± 5% r.h. or 30°C ±2°C/65 % r.h. ±5 % r.h.

Accelerated 40°C ±2 C / 75 % r.h. ± 5 % r.h.


Intermediate 30°C ±2°C / 65 % r.h. ± 5% r.h.
Semi permeable containers
Long Term 25°C ±2°C / 40 % r.h. ± 5% r.h. or 30°C ±2°C / 35% r.h. ± 5% r.h.

Accelerated 40°C ± 2°C / not more than 25% r.h.


Intermediate 30°C ± 2°C / 65 % r.h. ± 5% r.h.
Drug substances intended for storage in a refrigerator
Long Term 5°C ± 3°C

Accelerated 25°C ± 2°C / 60 % r.h. ± 5% r.h.
Drug substances intended for storage in a freezer
During the entire test the deviation in temperature is stipulated at ± 2°C and the deviation in relative humidity is stipulated at ± 5% r.h. 
Climate test chambers with optimized storage areas for reliable stability testing of pharmaceuticals ...

According to the ICH Guideline Q1A stability tests have to be performed under defined climatic conditions in order to furnish evidence of the stability of active substances and pharmaceuticals. To that end, we have developed a specific range of test cabinets and test chambers together with the pharmaceutical industry.
Stability tests are an important step in the course of the development of new drugs and pharmaceutical substances. They are an indispensable element of the process for granting of licenses for the product by the authorities, but they are just as important for safeguarding the quality of the product in the framework of quality assurance.
Together with committees from the pharmaceutical industry experts from the authorities granting the required licenses, such as e.g. the FDA, have developed the ICH Guidelines for the harmonisation of stability tests which define standardized storage, the evaluation of the batches as well as the time sequence of the required analytic tests. The guidelines are valid in the EU, Japan and the USA. For other regions climate zones have also been established; however, depending on the respective country, the execution of such tests may not be mandatory.


Safer and Easier Stability Testing
Vötsch Industrietechnik offers a complete package of state-of-the-art testing equipment, documentation, qualification, calibration, training and service.
Uniflow 
Airflow design for best homogenity even in loaded units.
Sterile steam system 
The demineralised water is evaporated at 140°C to kill eventually available microorganisms.
Integrated monitoring centre (IMC) 
To record all measurement data of control sensors or from the control loop independent sensors and alarms if an optionally integrated memory is available. The download and reporting of these data is possible with the optional software SIMPATI Pharma.
Pharma light 
For photostability testing a cold white illumination according to ISO 10977:1993 as well as a UV-source from 320 to 400nm with a maximum between 350 and 370nm according to ICH guideline Q1B are integrated.
Exposure equalisation filters (EEF) 
Due to the fact that fluorescence tubes have the highest intensity in the middle of the tube and lower intensities on the sides the exposure equalisation filters have been developed to cut the maximum in the middle and therefore get a homogenous illumination of the storage surface.
Qualification documents 
Vötsch qualification documents for chambers and rooms and validation documents for software- validations are prepared according to the risk based approach of GAMP.
EU GMP annex 11 compliance 
The computerised system combined of the controller SIMPAC and the monitoring software SIMPATI Pharma are fully compliant to the requirements of EU GMP Annex 11 for computerised systems. This can be proven in the software validation.
FDA 21 CFR part 11 compliance 
The monitoring software SMPATI Pharma is fully compliant to the requirements of FDA 21 CFR Part 11 the American law for electronic documentation in the pharmaceutical and food industry. This can be proven in the software validation.
DAkkS Calibrations 
All used measurement systems for temperature and humidity used within Vötsch Industrietechnik for final testing, calibration and qualification on customer side are traceable to a ISO 17025 accredited calibration laboratory of Vötsch Industrietechnik.
 
The Highest Possible Reliability ...
Product diversity 
Our comprehensive standard range of climate chambers from 34L to 2000L as well as the walk-in test chambers as standard solutions from 10 to 300m3 are available for the execution of stability tests. In specific cases the stability test chambers can be adjusted to your premises and almost any design. Spe- cial sizes, e.g. 400m3 or 800m3, are also possible.
For testing of photostability we offer you a solution tailor-made specifically for this purpose in the form of a photostability test chamber. Furthermore solutions for continuous operation at 5°C and (-)20°C are available.
Moreover, climate chambers in a version executed as per ATEX are available for tests with preparations containing alcohol. For all these demanding applications we offer individual solutions with regard to volume, safety and design for every customer.
Qualification 
For the approval of active substances and/or providing evidence of stability tests numerous measures have to be carried out and confirmed over extremely long periods of time for the purpose of ensuring flawless functioning of stability test chambers, such as e. g. compliance with fluctuations in temperature and humidity.  
These requirements are documented in a sustainable manner by means of our extensive qualification documentation.
The entire system qualification comprises
FAT Factory Acceptance Test

DAkkS ISO 17025 accredited calibrations with certificate

DQ Design-Qualification

IQ Installation-Qualification

OQ Operation-Qualification

PQ Performance-Qualification
Alternatively we offer also qualifica- tions acc. to GAMP 5.
In addition to this we provide all the required documents such as circuit diagrams, component lists and certificates, e. g. ISO accreditation, EC conformity declarations or also maintenance recommendations.
On request, our trained technicians carry out the qualification on site and can complement this with our comprehensive measurement and calibration facilities (also DAkkS calibration).