Stability test and climate cycling chambers VC3-0
If what you are looking for is quality, then the Vötsch climatic test cabinets will put you one step ahead. The series for constant climate has a timeless yet smart appearance – Climate cycling chambers VC3-0.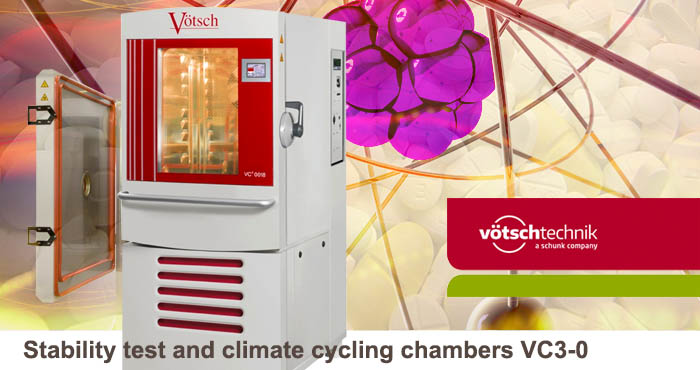 Our climate cabinet VC3-0 was designed to simulate different climates and/or seasonal climates and the climatic zones of the world, in particular for long-term and accelerated stability tests.
The specimens which have to be exposed to a long-term test and/or an accelerated service life test played a primary role throughout the entire development and construction process.
Energy-saving climate conditioning systems
Maintenance-free temperature conditioning and humidification systems
Comprehensive documentation
Stability tests as per the ICH guideline, climate tests in which the climate remains constant as per DIN 50 014 and IEC 60 068-2-3 and additional test can be easily performed
Device can also be used as a temperature test cabinet
High versatility
Special features
Extremely low noise level
1-phase electrical connection
Low energy consumption
Safety to test specimens thanks to independent temperature measurement
Easy to clean stainless steel test space
Wide humidity range - extreme climate
Calibrated test system