WTL/WKL – Temperature and climate test chambers for use in laboratories
Reproducible temperature and climate tests can be performed directly at your workplace. This is possible with the WTL and WKL chambers of Weiss. This series was specifically developed for use in laboratories.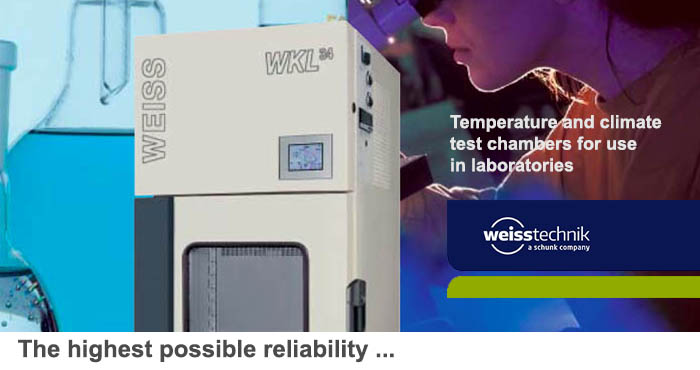 Compact dimensions - considerable intrinsic values – small, but highly effective!
Features
Test space volume: 34 to 100 litre
Maximum temperature: +180°C
Minimum temperature: +10 to -70°C

Only WKL
Temperature range: +10 to +95°C

Humidity range: 10 to 98%r.h.
Small  Temperature and Climate Test Chambers
Előnyök
Ethernet interfész
Nagy megfigyelőablak és megvilágított vizsgálati tér

Jó minőségű, kettős szigetelés
50mm-es nyílás
Felső és alsó hőmérséklethatár, próbatest-védelem az EN 60519-2 (1993) szabvány szerint, szabályozható, külön érzékelővel
Vezérlőrendszer
Options
Software package SIMPATI 

Temperature measurement on specimen
Capacitive humidity sensor
Interface IEEE 488 
interface RS 485 

Compressed air dryer
Additional access ports
Additional shelves
Mobile base (standard on WKL 34/70 and WKL 64/70) 

Automatic water supply (WKL)
Demineralisation unit (WKL) 

Special voltages