Photostability test chambers in accordance with the ICH Guideline Q1B options 2
The Vötsch photostability test chambers VP 250-L and VP 500-L have an ideal light, temperature and humidity distribution and is thus able to simulate reproducible light and climatic conditions.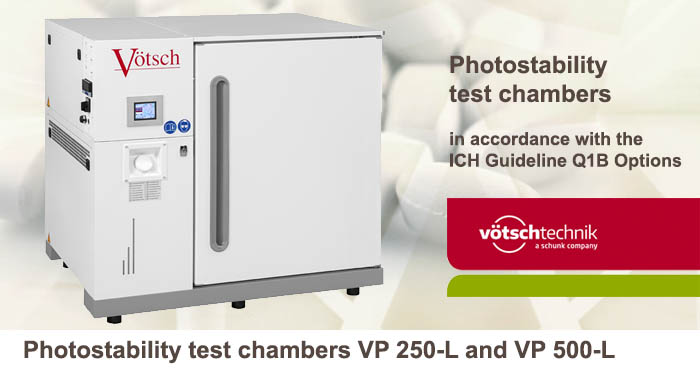 The lighting equipment complies with the ICH Guideline Q1B option 2 and enables photostability tests to be performed in less than 100 hours. All specimens are positioned at the same distance from the light source and are evenly irradiated by a special light/UV filter system.
Features
Ideal light, temperature and humidity distribution

Reproducible light and climatic conditions

Lighting equipment complies with the ICH Guideline Q1B option 2

Photostability tests can be performed in less than 100 hours

Specimens are positioned at the same distance from the light source and are evenly irradiated by a special light / UV filter system

System can be equipped with appropriate light and UV sensors for recording irradiation values

Patented vapour humification (Sterile steam system)

Capacitive humidity sensor
Standard Version
Digital measuring and control system SIMPAC with 3,5" TFT-colour touch panel

2 shelves illuminated with UV light

2 shelves illuminated with white light

Patented air filter system for homogenous irradiation of specimens

Timers for light and UV light

Counter for total operating hours        

Light and UV filters for optimum distribution

Lockable door

Stockable (VP 250-L)

Water tank 13 l (VP 250-L) and 19 l (VP 500-L) with possibility of manual and automatic water supply

Patented vapour humidification system (Sterile Steam System)

Ethernet interface

Calibration certificate

 
Options
UV and Lux sensors with automatic measurement value integration (fully automated process)

Serial interface RS 232 C

SIMPATI Pharma software package (complying with FDA 21 CFR Part 11 and EU GMP Annex 11)

Qualification documentation

Qualification on site, execution of IQ / OQ, spatial measurements, mapping of light distribution 

Maintenance contracts with response time

Calibration on site, also DAkkS accreditation