New generation climate test chambers for stability tests on pharmaceutical products
Pharma 600 / 600T, Pharma 1300 / 1300T, Pharma 2000 / 2000T
 – 3rd Generation.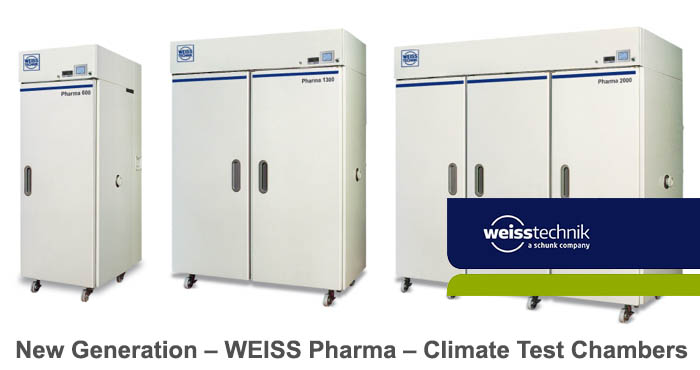 Changes in May 2013
New Simpati User Management

New 3.5" Touchpanel

Simpac New Release, with integrated Memory

New Options
Integrated Data Logger on Board

UPS for Data Logger

User rights in combination with Simpati-Pharma
Advantages
80mm Insulation
Reduced Height
Reduced Power Consumption
Reduced Nominal Power

Approved für ambient temperatures up to +35°C


Features
The interior fittings are entirely made of stainless steel offering a stor age area of 2.07m2 (Pharma 600), 4.14m2 (Pharma 1300) and 6.21m2 (Pharma 2000)bon 6, 12 or 18 loose shelves which are supplied as a standard feature

The working range of the cabinets easily meets the requirements of the ICH Guideline Q1A

The cabinets also permit the implementation of tests with other specifications in the performance range of the respective system
Controlling of temperature and humidity is performed with highly precise sensors in combination with a specially designed control unit

The control system responds quickly in order to correct setpoint variations caused by

The influence of the cabinet's contents (absorption or emission of water vapour by the test specimens or their packaging)

 External influences (e. g. laboratory temperature, opening of door)

Reduced Height


Pharma 600 – old 2015mm – new 1995mm


Pharma 1300 – old 2015mm – new 1995mm


Pharma 2000 – old 2070mm – new 2001mm
The units are fitting through a standard door
.

The depth can be reduced to 880mm by disassembling the Water Tank Cover.
Reduced Nominal Power
Pharma 600 – old 2,3 kW – new 1,5kW


Pharma 1300 – old 2,7 kW – new 1,8kW


Pharma 2000 – old 3,7 kW – new 2,5kW
Up to 50% lower energy consumption!
35°C Ambient Temperature

Pharma 600, 1300 and 2000 are tested for higher ambient temperatures
Still suitable for 220/230V 50/60Hz


Temperature range 5-60°C in temperature mode


Temperature range 10-50°C in humidity mode


Suitable for continous operation at 5°C