Photo-stability test chamber 500-L
The photo stability test chamber Pharma 500-L is characterized by an ideal light, UV, temperature and humidity distribution and can thus guarantee absolutely reproducible light, UV and climatic conditions.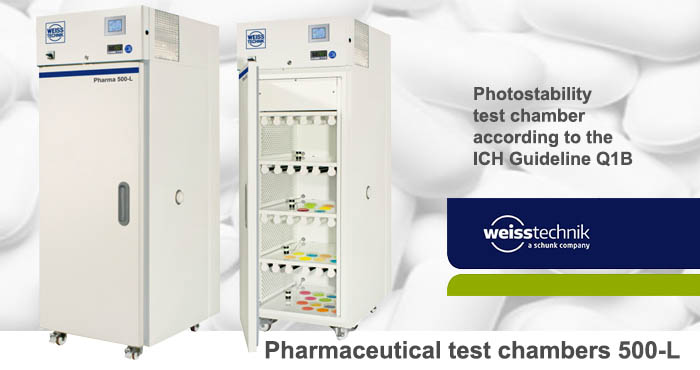 The lighting equipment used complies with the ICH Guideline Q1B Option 2 and enables photostability tests to be carried out in less than 100 hours.
One of the most important requirements in photostability tests is the homogeneous irradiation of the specimens. For this reason, all the specimens have to be positioned at the same distance from the light source.
Technical Specifications
Volume gross: ca. 700 l, net ca. 460 l

Temperature Range: +10°C ... +50°C
Humidity Range: 20 ... 90% r.h.
Illumination: max. 25.000 lx 

UV energy: max. 3.7W/m2

Light distribution: approx. ±6% r.h.
UV distribution: approx. ±10% r.h.