Pharmaceutical test chamber – Product range
A wide range of standardised climate cabinets for stability tests from 34 l up to 2160 l and walk-in staibility test chambers in nearly every required size or suitable to your premises provide the ideal solution for every application.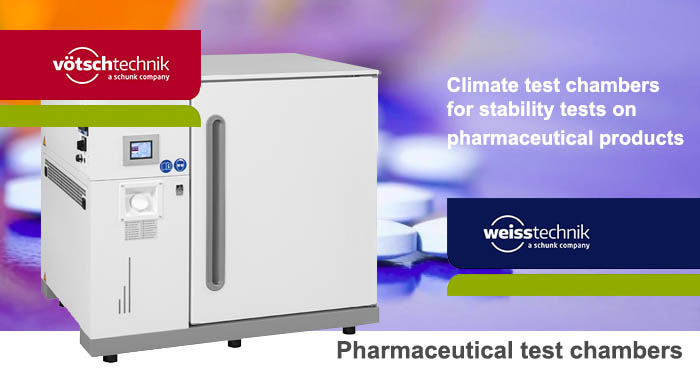 Temperature and humdity can have a strong influence on the quality of pharmaceutical and cosmetic products.
Therefore the preparate can loose the efficacy through wrong storing conditions. In the pharmaceutical industry API and Medicines are tested under long term conditions to determine the shelf life time.
VB Pharma stability test chambers
VT 3050 Pharma
Stability Testing – GMP and FDA compliant reliable solutions for the pharmaceutical Industry
Pharmaceutical test chamber
Climate chamber WK3-0
Walk-in pharma test chambers
Photo-stability test chamber type 500-L
WTL / WKL – Temperature and climate test chambers for use in laboratories
New generation climate test chambers for stability tests on pharmaceutical products
Stability test walk-in chambers  VTZ, VCZ Pharma 
Walk-in test chambers for stability testing according to ICH Guideline Q1A
Temperature test chambers VTL and climate test chambers VCL
Stability testing according to ICH Guideline Q1A
Photostability testing according to ICH Guideline Q1B
Photostability test chambers in accordance with the ICH Guideline Q1B options 2