Stability testing according to ICH Guideline Q1A
The exceptional build quality, innovative product features, accuracy and smart controls allow for the safest and easiest stability testing. VP series 280, 280-T, 600, 600-T, 1300, 1300-T, 2000, 2000-T pharma test chambers.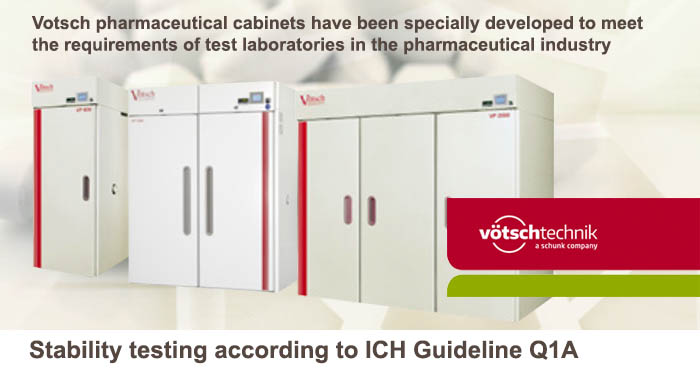 VP Series 280 | 280-T | 600 | 600-T | 1300 | 1300-T | 2000 | 2000-T
Vötsch pharmaceutical cabinets have been specially developed to meet the requirements of test laboratories in the pharmaceutical industry.
VP Series cabinets come in four sizes and can provide a constant climate (Types 280, 600, 1300 and 2000) or just a constant temperature (Types 280-T, 600-T, 1300-T and 2000-T).
The working range of the cabinets easily meets the requirements of the ICH Guideline Q1A. Furthermore the systems are designed to work at 5°C continuously without defrosting. The cabinets also permit the implementation of tests with other specifications in the performance range of the respective system. Controlling of temperature and humidity is performed with highly precise sensors in combination with a specially designed control unit. The control system responds quickly in order to correct set-point variations caused by:
The influence of the cabinet's contents (absorption or emission of water vapour by the test specimens or their packaging) 

External influences (e. g. laboratory temperature, opening of door)
Standard scope of delivery
Microprocessor monitoring and control SIMPAC with 3.5" colour touch panel for entering of set-point values

Ethernet interface

Fully integrated user management in the control panel

Calibration of 2 temperature and 2 humidity values

Software temperature limiter for min. and max. test space temperatures

Alarm system according to GAMP

Interior fittings are entirely made of stainless steel

Door contact switch

Water tank with automatic and manual water supply of demineralized humidification water
Lockable doors

4 castors, of which 2 have brakes

Air-cooled refrigeration unit with low noise emission

Patented vapour humidification system (Sterile Steam System)

Capacitive humidity sensor

Entry port, Ø 50mm, in the right side panel

Operating manual

Multi language touch panel (German, English, French, Spanish, …)

280L units on 6 feet

280L units are stackable
Most important Options
Software package SIMPATI Pharma for recording and processing of measurement values
Integrated Datalogger

Networking of several systems
Serial interface RS 232 C

Registration of temperature and /or humidity
Integrated UPS to keep the recording alive during a power-failure

Additional temperature and / or humidity sensor

Acoustic and optical warning signal


Refrigeration unit, water-cooled

Glass door, heated

Height adjustable feet

Additional shelves

Additional entry ports

Demineralisation unit with exchangeable cartridges for connection to local water supply
Qualification documentation for equipment and SIMPATI software

Special voltages

Analog outputs
 

Maintenance contracts with defined response time