ClimeEvent M test chambers
ClimeEvent M test chambers was designed as a quickly available alternative to highly complex systems. In it, products can be subjected to climate tests in a wide range of temperature and climate conditions. Climate test with low airflow requirements.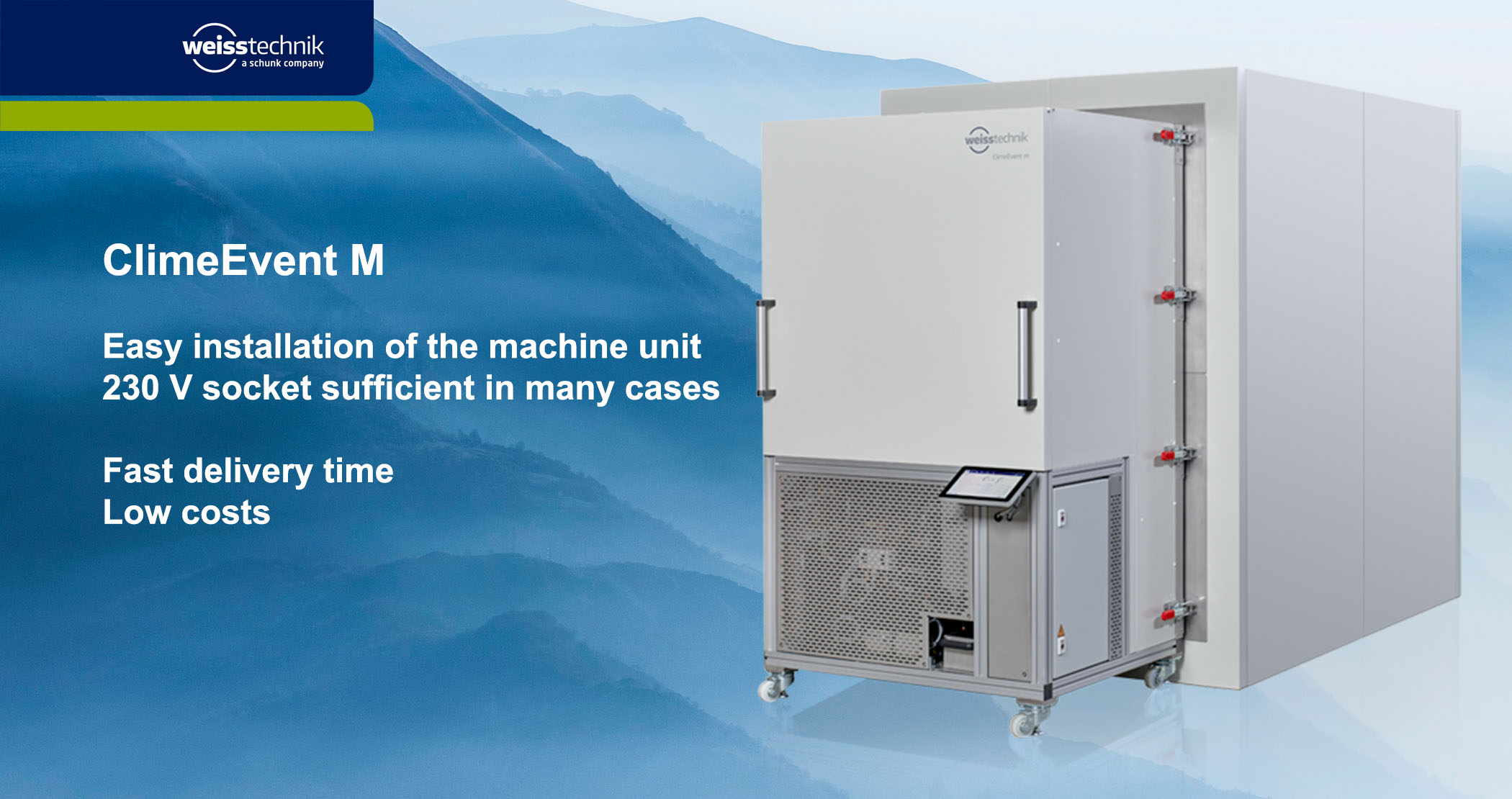 Climate tests are not always complex and demanding. Sometimes it's enough to keep temperature and humidity constant over a longer period. For example for storing material if no special air guidance is necessary. For this, we have developed a simple and economic solution.
WHY? – Limited space, limited installed power, no highly complex climate chamber necessary
HOW? – Separation of machine unit from the climate chamber, standardized parts
WHAT? – ClimeEvent M for chambers with a testspace of 6 m3 to 50 m3
Specialised in simple cases 
ClimeEvent M units are our specialists for simple climate tests without special requirements on air guidance. They are always used when complex climate chambers are overdimensioned, yet reliable air conditioning is still necessary. A typical area of application is the storage of material at constant climate conditions over a longer period. The units are available quickly and achieve a large test spectrum in the temperature range from -10 °C to 60 °C and a humidity range of 30% r.h. (at 10 °C) up to 95% r.h. (at 60 °C).
Due to the simple design and usage of standard components, the installation is carried out in existing buildings within a very short time.
Depending on the application, the power and media connections do not have to be changed. A 230 V socket is sufficient in many cases. To obtain the maximum power and best control accuracy, 400 V is required.
The device has a very compact design so that it fits through common door openings and also in various passenger elevators. This can be checked in detail depending on the application.
The cell can be ordered in various sizes from 6 m3 to 50 m3 and is assembled directly on site.
The cell and the machine unit are separate modules, which means that one machine unit can be moved to different chambers and furthermore a higher redundancy can be achieved.
Also several units can be connected to one chamber to increase the available cooling/heating capacity, humidifier capacity and the temperature change rate.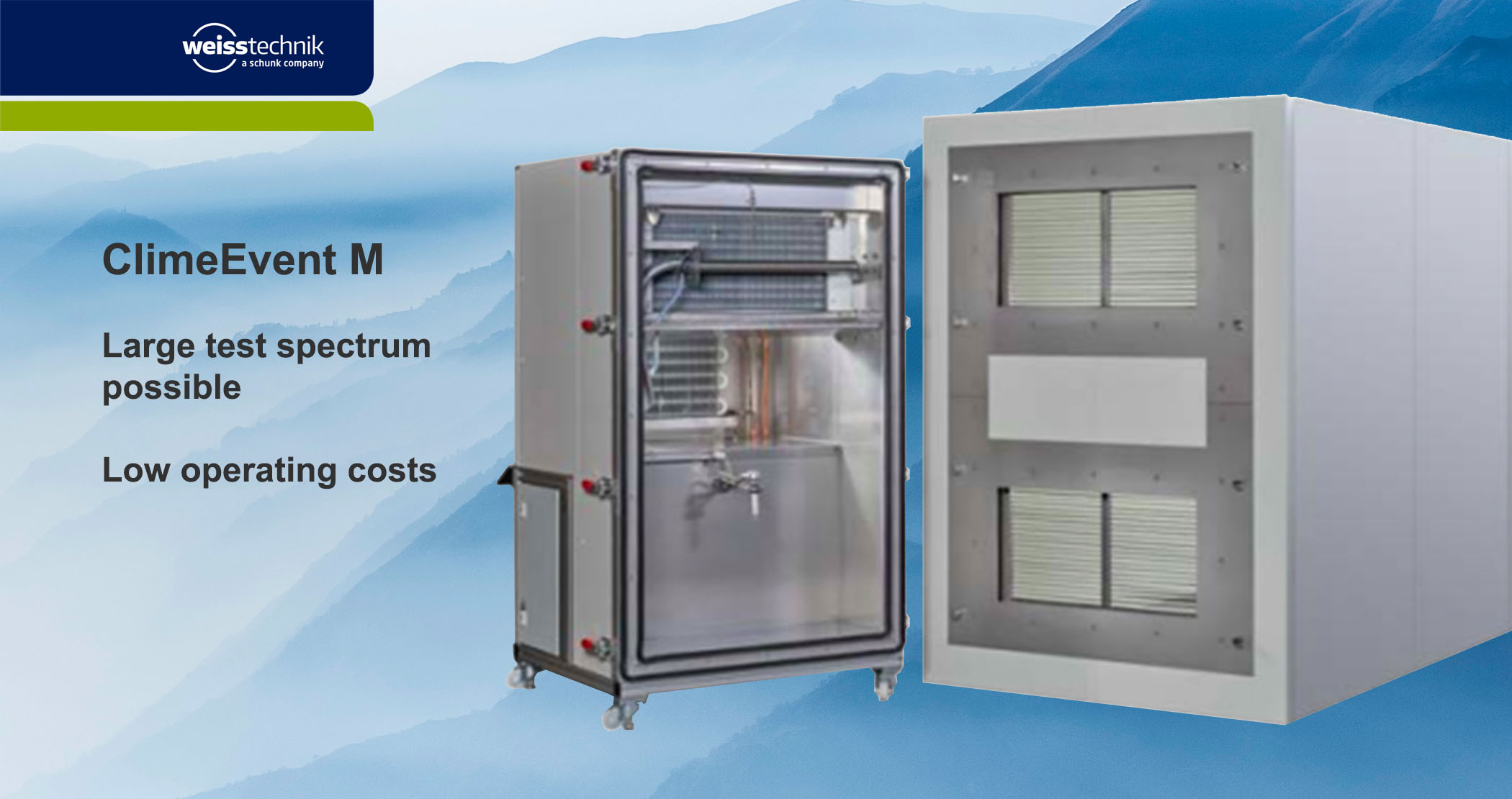 System Highlights
Easy installation of the machine unit
230 V socket sufficient in many cases
Fast delivery time
Low costs
Large test spectrum possible
Low operating costs
Technical Data
Chamber size: 6 m3-50 m3
Temperature range: -10 °C bis 60 °C, Accuracy of +/1K
Humidity range: 30 % r.H. to 95% r.H., Accuracy of +/5 %
Dew point range: -4 °C bis 58 °C
Max. cooling capacity: Approx. 2,6 kW
Max. heating capacity: Approx. 2 kW
Max. dehumidification capacity: Approx. 1,5 kg/h
Max. humidifier output: 2 kg/h
Heating and cooling gradient: Approx. 0,21 K/min for an empty 10 m3 chamber
Cooling: Initially air-cooled, later optionally also water-cooled
Humidifier water: City water usable, water tank optionally possible
Condensate removal: Via waste water on the building side, optionally via water tank.
If you would like to find out more about our solutions, we would be happy to offer you one-on-one advice and develop a customised solution to meet your requirements.