VT Temperature test chambers with the ideal class for laboratories
VT Series temperature test chambers with the ideal performance range for constant and cyclic temperature tests. The relation of external dimensions, test space volumes, efficiency and operating costs are excellent.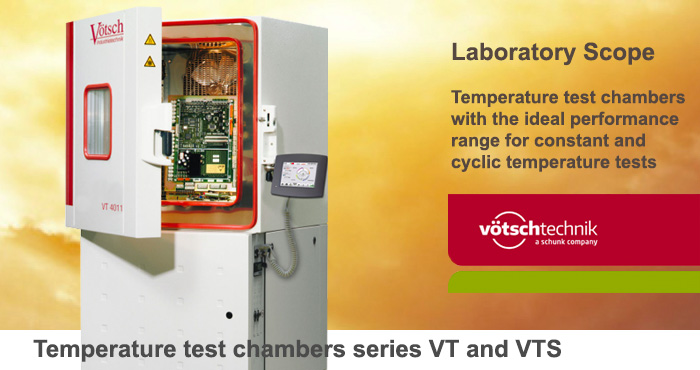 The temperature test chambers VT 4011 to VTS 7021-5 are especially designed for use in laboratories.
The relation of external dimensions, test space volumes, efficiency and operating costs are excellent.
All of these extremely compact systems offer a remarkable test space volume. Even the 110L system is capable of accommodating three 19" racks.
The system is equipped with an entry port NW 80mm for connecting supply/measuring lines to electronic components.
Rapid temperature cycles, high heat compensation and a low noise level make these systems highly favourable for use in laboratories.
Castors, provided as a standard feature, make these chambers highly mobile.
Performance for constant and changing temperature ranges from -40/-70°C to +180°C.
The chambers of series VT are ideal for laboratories, they are of a 1-phase design (230V AC).
In addition we offer the high performance VTS-series with temperature change rates to 10K/min.
The control and communication system provides the highest level of operating convenience, with the removable, menue-controlled colour touchpanel with graphics-capable display.
A powerful 32-bit control system forms the basis for monitoring and controlling of the test equipment. The series VT and VTS are equipped with the control system SIMPAC.
Extensive test programs can be easily and reliably created, safe-guarded and reactivated.
Main advantages
Light-weight with high performance

Small installation area

Low power input/operating costs

Easy operation with colour touchpanel

Reliable also at high ambient temperatures

Mains connection 230V (VT-series)

Silent operation

USB interface with recording function

Remote control and remote monitoring via intranet or internet.
Standard equipment
Colour touchpanel for comfortable input

Microprocessor monitoring and control unit SIMPAC

USB and ethernet interface

Smooth test space walls

Independent, adjustable temperature limiter t min/t max

Adjustable software temperature limiter min./max.

Air-cooled refrigeration unit, chloride-free


Potential-free contact for switching-off of test specimens

Calibration of 2 temperature values


Entry port NW 80mm 

Mobile design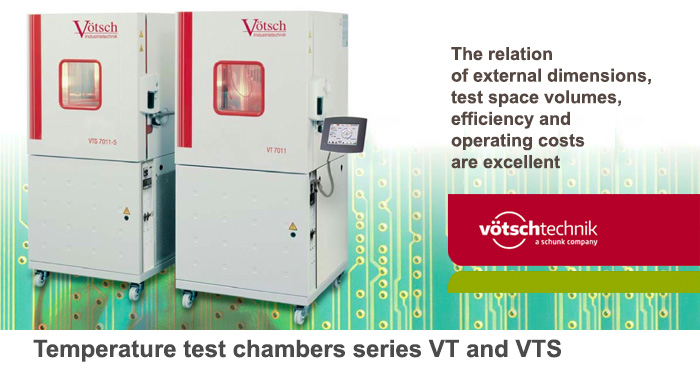 The most important options

Software SIMPATI 

Digital I/O


Analogue transducer card I/O

Adjustable circulating air quantity


Temperature measuring on test specimen


Interface RS 232
- Interface converter RS 232, RS 422/485 or IEEE 488

Interface RS 422/485 (Network card for test cabinet)

Dehumidification during heating cycle (only VT-series)

Compressed air dryer for dew point -30 °C unregulated

GN2/compressed air connection
Water-cooled refrigeration unit

Lead-through pad


Notch


Additional insert shelves


Additional entry ports


Door with window & light


Door with window & light and 2 handholes


Low noise suppression


Spatial WKD or DKD calibration 

Special voltages
The nice software 
The SIMPATI control software (optional) enables you to use your systems even more effectively.
Operation of test systems becomes simple and time-saving. Evaluation and documenting of test cycles and the integration of special measuring data guarantees an improved standard.
SIMPATI is network-integrated offering remote operation from other PCs in your network. No special software is required – a standard Internet browser will be sufficient.  
It's obvious that our system for controlling SIMPAC and the software SIMPATI fulfil the requirements of "21 CFR Part 11 Compliance".  
Further information is available in the SIMPATI brochure.