Weiss environmental protection
By means of comprehensive energy optimization the efficiency also of your systems and processes can be significantly increased – we are at your side to assist you.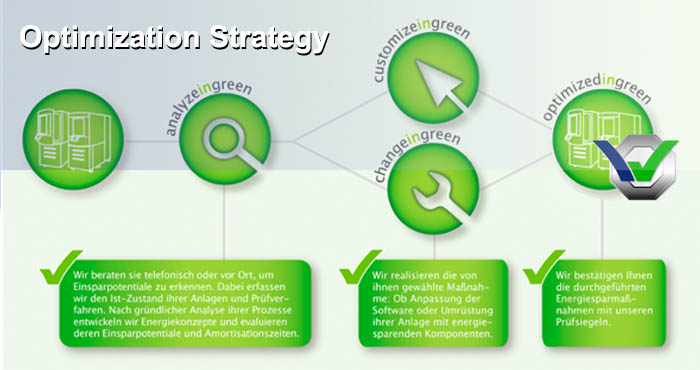 In collaboration with our specialists we select the most efficient system for your tests applications.
Tailor made equipment is developed and designed to fit exactly to your special applications.

Optimized Shock Test Chamber
Shock test cabinet, type TS 120 or VT 7012 S2, 120 litres
Electric energy is saved by deactivating the refrigerating unit, heaters and fans via a smart software module. This deactivation applies when the test basket remains inside the unused chamber for a prolonged time.
The following presumptions are subject to our calculation examples
Temperature cold chamber: 
-40°C (set value: -50°C)
Temperature hot chamber: +85°C 
+ Dwell time: 1h
Test specimen weight: 10kg
System operating time 6,000h per year corresponds to 3,000 cycles

By considering the complete system on site, e.g. testing facility, measuring devices, heat exchangers, etc., we are in the position to tap the full potential.
The saving possibilities of your existing equipment can be checked for you.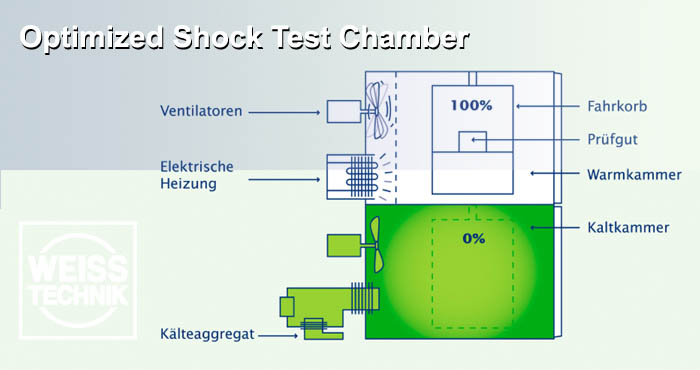 New equipment operates within the optimal range thanks to efficient components and smart control.
Values measured on a sample test chamber
Before modification:


approx. 42,000 kWh per year

After modification:


approx. 24,300 kWh per year
This signifies a direct saving of 42%