Temperature shock test chamber TS 300
Test procedure evaluation / documentation and integration of customer measurement data ensure a higher level of quality. TS 300 shock test chamber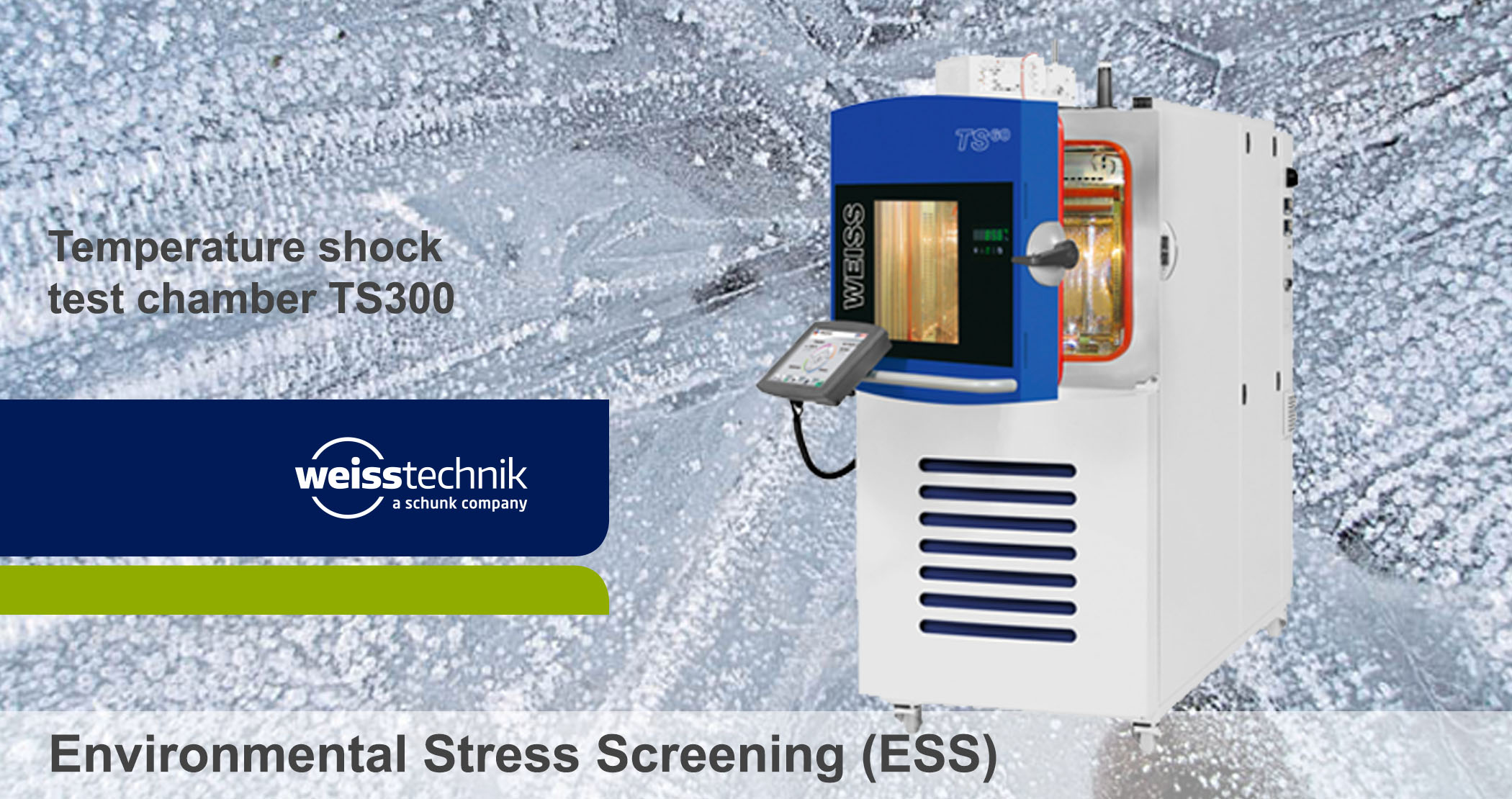 TS 300 consists of two independently controlled chambers (one is the hot and the other is the cold chamber). The two chambers are located on top of each other. The hot/cold temperature shock is invoked by quickly transferring the test specimens from one chamber to the other by means of an elevator. It exposes test specimens to shocking temperature change.
ESS – tested for absolute reliability
When performing qualification tests on materials and components, the application of tests applying high and low temperatures do not always bring about satisfactory results. For rating the reliability of materials and components, additional stressing applying rapid temperature changes often offers better results.
Environmental Stress Screening (ESS) is a process to provoke latent flaws in a product before it leaves the factory. Hence, ESS is always applied if the reliability of a product must be enhanced.
In addition to temperature stressing, extremely rapid temperature cycling rates in the range of -80°C to +220°C result in the extremely high mechanical stressing of test specimens. If electronic components are exposed to this severe temperature cycling, weak points are revealed rapidly.
By assigning our shock test chamber, you not only reduce the number of premature failures but also increase the reliability of your products. It goes without saying that our systems fulfil the requirements of international testing standards such as DIN, IEC and MIL.
The principle of the vertical arrangement of the test zones of our shock test chamber has proved to be highly successful. A ball spindle drive ensures reliable guidance of the cradle.
Air guidance facilities, designed according to experience gained from the field, combined with high air circulating rates result in rapid temperature cycles and a uniform distribution of temperature in the test space.
1000 cycles are possible without defrosting.
Features
Test space: 300 l
Vertical order of the chamber for safe and quick test performance
Regular temperature distribution in test space via a high recirculating rate with optimum air flow
Hot chamber temperatures of +50°C to +220°C
Cold chamber temperatures of -80°C to +70°C
Alternating time between the chambers
More than 1,000 cycles are possible without defrosting via
A standard integrated volume compensation system for continuously operation
Low sound-pressure level, only 58dB(A)
Design Maintenance friendly positioning of the machine components
Entry port Ø80mm
Loading capacity of the lift 50kg
8" TFT-colour touch screen display
Controlpad
Ready to plug-in