Test systems for rapid temperature cycling VCS3 and VTS3
The test systems based on the well-tried modules of the VT and VC series with increased power for heating, cooling and circulating air and test cabinet volumes of 190 to 1540 L are capable of meeting virtually all requirements of current ESS testing.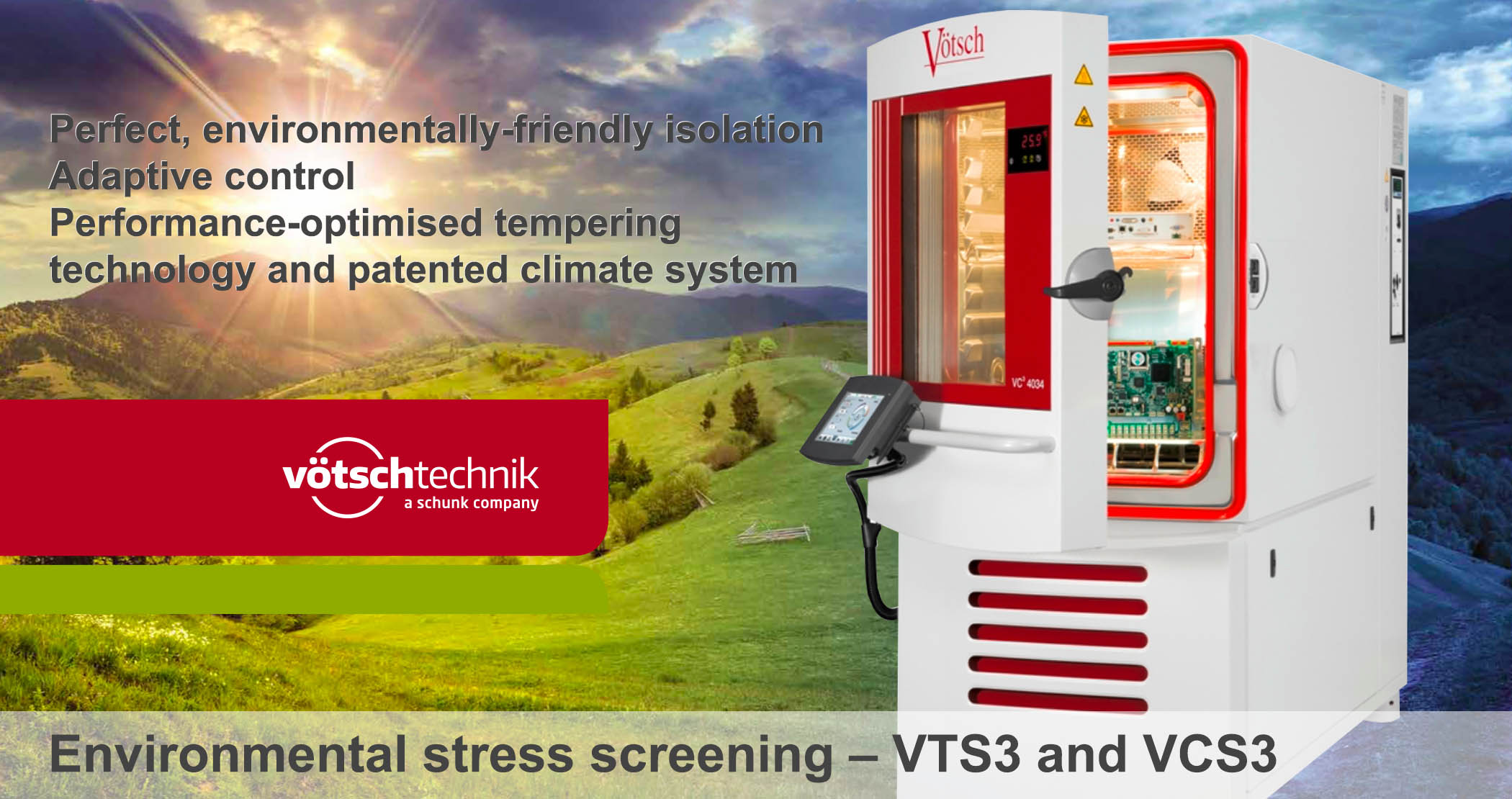 Features – Perfectly processed
The external housing is made of corrosion-resistant, galvanised steel sheet and solvent-free powder coated.
The stainless steel test space is welded vapour-tight. Its environmentally friendly insulation guarantees the best possible insulation values and, hence, the lowest possible operating costs.
Even in the standard version of the equipment all sizes are equipped with two standard stainless steel ports (approx. Ø 50 and 125 mm). They can be used for inserting measurement and control cables, other supply connections or additional equipment.
Safe design
The test cabinets are equipped with an adjustable safety cut-out against high and low temperatures (test specimen protection with separate sensor) according to EN 60519-2 (1993)
Any safety alarm is issued visually as well as acoustically.
The door latch ensures an optimum closing pressure while ensuring protection against excess pressure at the same time.
The large observation window which is available as an option allows an optimum view of the test space and it is equipped with multiple glazing and heated in order to prevent the formation of condensate.
A potential-free contact is available on the test cabinet.
Every electrical functional circuit is equipped with its own safety facility which shuts down the functional circuit affected or the entire test cabinet in case of a malfunction.
The electrical system complies with the approved state of the art in the field, the safety regulation "Electrical Systems and Facilities" (BGV A3) as well as with the relevant VDE regulations.
All test cabinets fulfil the EMC, low-voltage and machinery directive. The hermetic refrigeration circuits operate with environmentally friendly refrigerants (CFC-free).      
Ready for use 
A quality inspection of every test unit is effected before delivery. They are designed ready for plug-in and are directly ready for use. There is no need for an assembly on site.
Standard Version
Digital measuring and control system Simpac
8'' TFT-colour touch screen display
Controlpad for displaying of temperature values, lighting, start / stop, etc. on the front panel of the device
Ethernet and USB interface
Refrigeration unit, water-cooled
Stainless steel ports approx. Ø 50 mm and 125 mm in the left and right side panel
Safety cut-out against high and low temperatures (protection of test specimen as per EN 60519-2 (1993) adjustable, with separate sensor
Insertion rack (stainless steel)
Adjustable and vibration absorbing feet
4 digital outputs (24 V-DC)
4 digital inputs (24 V-DC)
Potential-free contact for specimen disconnection
2 temperature values are calibrated (+23 °C and +80 °C)
Additional equipment for VCS3 series
Integrated limit value monitoring system for humidity
Psychrometric humidity measurement with automatically wetted, self-cleaning sensor
Large water tank, easily accessible
Automatic feeding in of additional water without interruption of operation
Alarm message in case of water shortage
Display of the humidity values at the Controlpad
Humidity bath purging for cleaning of the humidifier water
2 climate values are calibrated (23 °C/50 % r.h. and 95 °C/50 % r.h.)