Vötsch VTV/VCV series temperature and climatic test chambers in combination with vibration
Dynamic and climatic safety testing – Temperature and climatic test chambers in combination with vibration – Our VTV and VCV series with up to 15 K/min temperature change rate.

Minimize safety risks with the help of mechanical / thermal testing

Vötsch testing systems enable you to simulate dynamic processes, i.e. mechanical as well as thermal loads, affecting components and equipment.
The loads on materials and components occurring during transport in cars, buses and lorries are of complex nature. Moreover, loads occurring during transport via railroad and ship as well as through aeronautic transport also have to be considered. Performance tests can be carried out both during and after the dynamic load.
For most applications, the required test conditions are defined in standards such as e.g. MIL, IEC and DIN.
Vötsch Technik offers a large number of standardized test systems for dynamic loads.
A total of 36 test chambers in 3 sizes with volumes of 600 l, 1200 l and 2200 l, two temperature ranges from (-)40 and (-)70 to +180°C and temperature conditioning performances of 5, 10 and 15 K/min – both with and without climate conditioning – represent the broad performance range of test systems made by Vötsch Technik.
The Environmental Stress Screening procedure
Testing of new materials, e.g. for weight reduction in the automobile industries, is part of the responsibility of the research and development department, where as combined vibration testing as an ESS procedure (Environmental Stress Screening) is increasingly being used within manufacturing processes.
ESS testing aims at generating premature failure of products during the production stage. This actually means ESS is a procedure which is used to separate acceptable from inferior parts.
It is also possible to implement sinusoidal waves and random noise both horizontally as well as vertically in combination with temperature and climatic testing.
Both temperature and climate influence the vibration behavior of materials. For this reason, constant as well as cyclically changing temperatures and climates are important during vibration testing.
Unambiguous ambient conditions during testing with sine excitations, noise, sine on noise or even shock testing lead to solid results considerably faster.
Vibration test systems by Vötsch Technik are characterized by well thought-out constructions and straight industrial design.
The proven results obtained from the temperature and climate test systems form the basis for our high quality standard.
Optimum integration of various vibration systems thanks to modular chamber design
On the basis of the stress screening systems for temperature and humidity, Vötsch Technik offers a large number of standardized test systems for dynamic loads.
For supplying/measuring connection to your modules/devices thermally decoupled entry ports fitted into the chamber side walls can be utilized.
The test chamber with its vapor tight welded stainless steel container can be turned into a fully functional climatic test chamber with the help of exchangeable floor elements.
The design of our special seals for doors, floor elements and vibrator ducts are based on decades of experience.
The optimized airflow, which has been specially developed for this application, ensures rapid temperature cycles and a high heat compensation.
This ensures consistent temperature conditioning for the specimen along with minimum deviations in temperature distribution.
Important features
Modular construction creates ideal conditions for easy handling. 

Modular system in both size and capacity.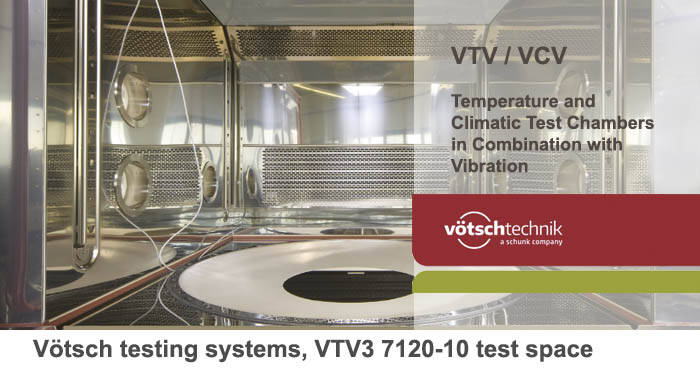 Innovative details offering the highest possible operating convenience
Various technological solutions for individual tasks
Regardless of whether your application requires mechanical, hydraulic or electro-dynamic vibration systems, we can integrate products by all renowned vibrator manufacturers.
In order to ensure trouble-free adaptation of the test chamber to the shaker, the test chamber is adjusted to the respective height of the shaker.
Subsequent adjustment to different heights at the customer's premises is possible without any problem.
The self-supporting test chambers offer the advantage of free accessibility. There is no obstructing metal frame which might hamper the execution of the work activities necessary in the working range.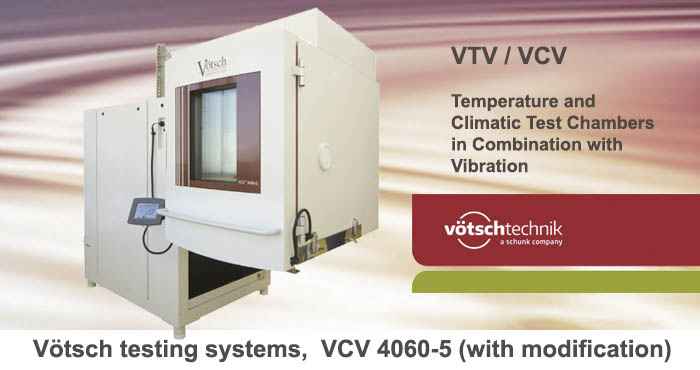 Almost everything is possible!
We plan, design and construct tailor-made solutions of any type.