Temperature shock test chamber VT3 S2 – Systems for rapid temperature cycling
The application of rapid temperature cycling is the most effective manner of creating premature failures of products in the production phase. Vötsch temperature shock test chambers realize all natural temperatures between -80°C and +220°C.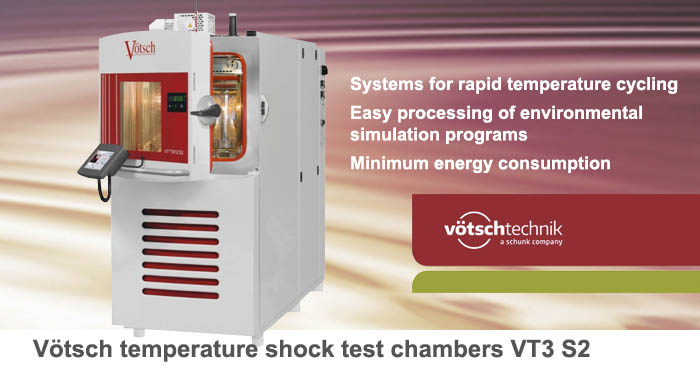 A stress test for your products
Environmental conditions have a major influence on the functionality and reliability of electronic components, devices and systems.
In order to discover latent weaknesses in the shortest possible time, a typical temperature test is often insufficient; test specimens must be subjected to multiple, abrupt temperature changes.
With the Vötsch Technik temperature shock test chamber VT3 it is possible to realize extremely rapid temperature changes in the range from -80°C to +220°C.
This allows you to reduce the incidence of early failures and increase the reliability of your products. Reproducible, certified and in time lapse.
Lots to test? No problem! 
When testing your products, you must adhere to numerous test standards and carry out long-term tests. Vötsch's test chambers are designed for exactly that. The production models have a wide range of applications and satisfy every need. For specific requirements, you can upgrade with many options. According to your needs.
Reliable measurement results are possible thanks to
Integrated volume-compensation system for sustained operation

High air-circulation rate and optimal airflow in the test chamber

Fast-lifting basket motion

Broad, overlapping temperature ranges in the cold and hot chambers

Configurable preliminary temperature control in both temperature zones

Perfect, environmentally-friendly isolation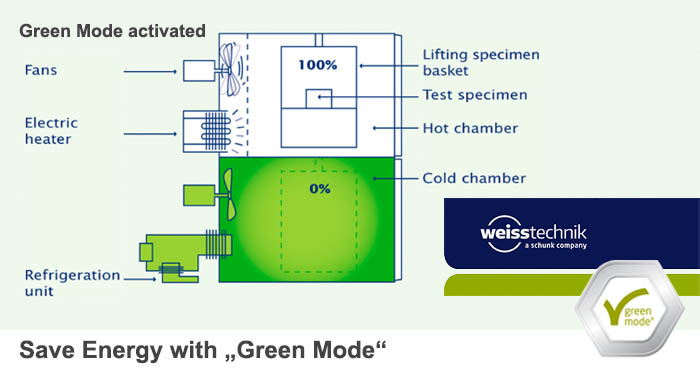 Features
Test space volumes 60l, 120l and 300l

Vertical arrangement of the test zones

A ball spindle drive ensures reliable guidance of the cradle

Cradle load 20kg for VT3 7006 S2, 50kg for VT3 7012 S2 and 100kg for VT3 7030 S2

Removable guards on all sides of the cradle protect the specimens

Temperature conditioning of the hot zone from +50°C to +220°C (optional to +250°C)

Temperature conditioning of the cold zone from -80°C to +70°C
High air circulation rate, short temperature change rates and even temperature distribution in the test space

Volume compensation system for long-term operation integrated in the machine compartment

Large port for the supply/measurement of specimens

High resolution color touch panel with graphical display for the easy processing of environmental simulation programs

Minimum energy consumption

No compressed air required
Standard Version
Digital measuring and control system Simpac

Simpati program tool on CD ROM for convenient programming of control via PC

Temperature control using movable sensor in cradle or alternatively fixed sensor in warm or hot zone

Digital I/O, 4 inputs/outputs

Stored programs

Independent, adjustable temperature limiter t min / t max for hot zone and cold zone

Adjustable software temperature limiter min / max …