Weiss C series – Temperature and humidity system 

The test chamber features extremely precise air conditioning and innovative humidifier water bath which not only provides spray-free humidity control but also reduces humidity at the same time.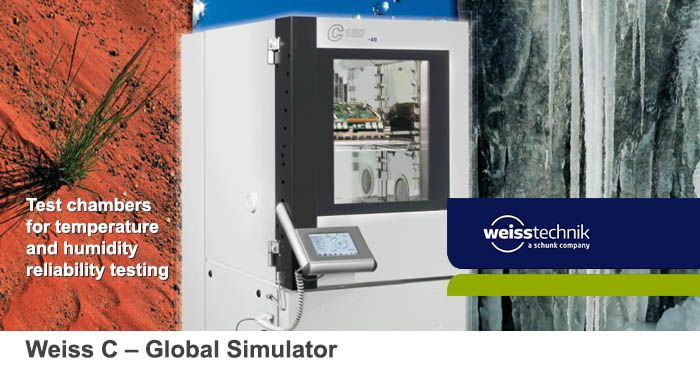 WEISS climatic chamber C-SERIES – A cost-effective solution!
Key benefits
The circulating air is cooled while flowing over a patented heat exchanger and heated by electrical resistance heaters in order to achieve the desired set values in the shortest possible time.
An intelligent air flow system guarantees utmost spatial as well as temporal accuracies even with the test space loaded.
A proprietary psychrometric measurement system allows high accuracy over a long operational lifetime.
The water bath technology combined with the innovative sensor assures a highly accurate climatic control in an extensive climatic range.
Standard Chamber Features
Test Space: 190-1.540 liter
Min. temperature: -40°C (-70°C)
Max. temperature: +100°C (+180°C)
Observation Window with size of (W)450mm X (H)600mm
Ethernet Interface
4 Potential-free digital I/O channels
Solid state heater relays
2 Soft silicon plugs
2 Port holes of 50 mm and 125mmØ on the left and right hand side, respectively
1 insert shelf
Movable Design
Adjustable specimen protection device with separate sensor (specimen protection according to EN 60519-2, 1993)
Dehumidifier coil to prevent forming of condensation on test specimens
SIMPAC equipped with a high performance CPU and threshhold monitoring system
Patented psychrometric humidity measurement system
Water shortage indicator
Special temperature conditioning system at climatic operation for best temperature and humidity constancies
Options
Software SIMPATI
Serial RS 232/485 interface
Additional shelves
Temperature up to +180°C