Save Energy with "Green Mode" – Weiss Technik
Environmental friendly technology from Weiss Umwelttechnik – Energy efficiency – Green Mode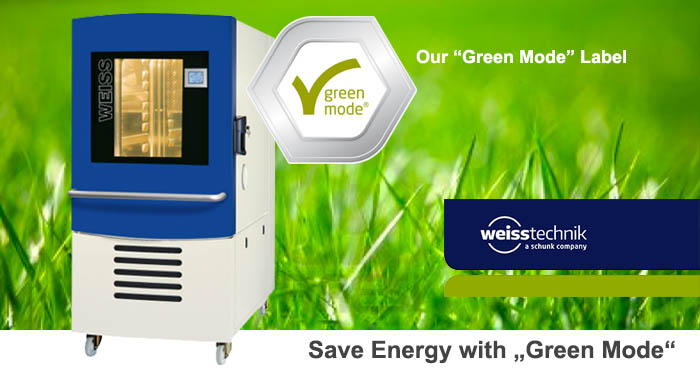 In automotive industry the climatic testing (environmental simulation) is the most important quality control testing mode, despite that these tests are costly for two reasons: on one side the high-tech test equipment is expensive, on the other hand the cost of energy is really high.
The high quality demands of international standards (ISO, DIN, ASTM, VDA etc.) specify generally long term temperature and climatic testing, and the long test time significantly increases the energy bill.
A typical ESS climatic test profile includes wide temperature range with up to 15 K/min temperature change rate. This requirement involves particularly high energy consumption in cooling phase.
Therefore, the world's leading manufacturers of climatic chambers invest a lot of money in development of an energy efficient climatic chamber type.
Green Mode – environmental friendly technology from Weiss Umwelttechnik
Green Mode = energy efficiency
Conservation of resources
Reduce CO2 emissions
Longer service interval
Reduce operation costs
Energy-efficiency – from the first step
Analysis of the available media
Clarification of the available media
Best Equipment for the application
Integration in existing infrastructure
Option Green Mode and Green Mode+
New intelligent driven Systems
Conventional Chambers 
While a -40°C temperature and climatic chamber has a one stage conventional cooling aggregate, the -70°C temperature, climatic and heat shock chambers have cascade cooling system with two compressors. The cascade cooling system is used over the complete temperature range, so both compressors are working to rich -75°C. Thus, especially in fast cooling phase the energy consumption is very high.
Chamber with Green Mode
Pre cooling stage – Only one compressor used within the Green Mode range

Reduced power and cooling water consumption
Cascade –

Only out of the Green Mode rage used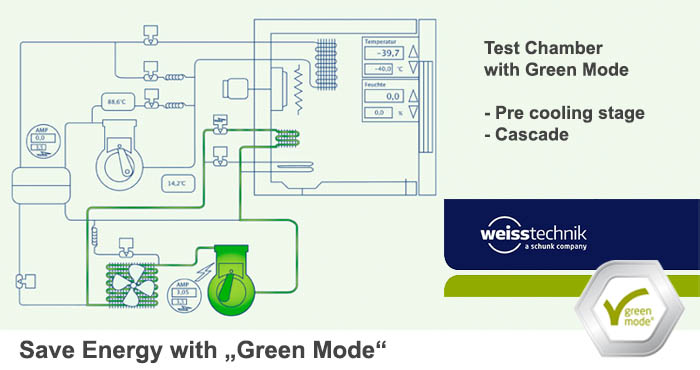 Customer benefits in Green Mode
Reduced energy consumption
Reduced cooling water consumption
Reduction of noise emission
Green Mode – range of application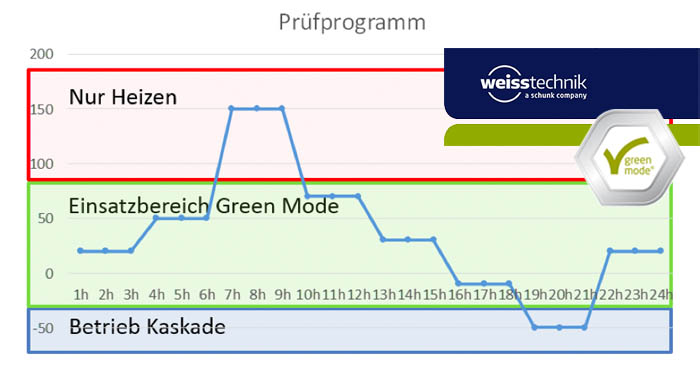 Steps of a 24 hours quality testing cycle: only heat phase (rose), Green Mode (green) and cascade phase (blue).
Heat shock chamber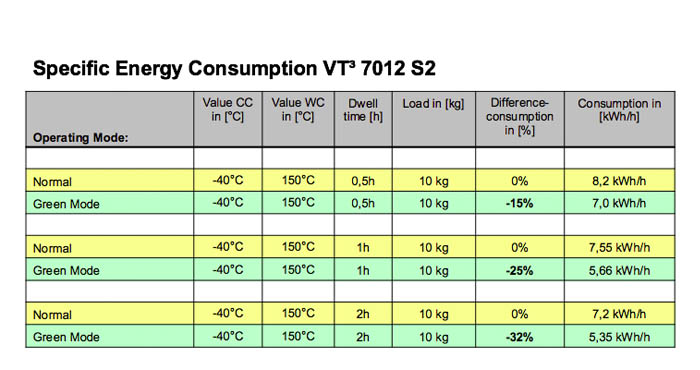 Standard function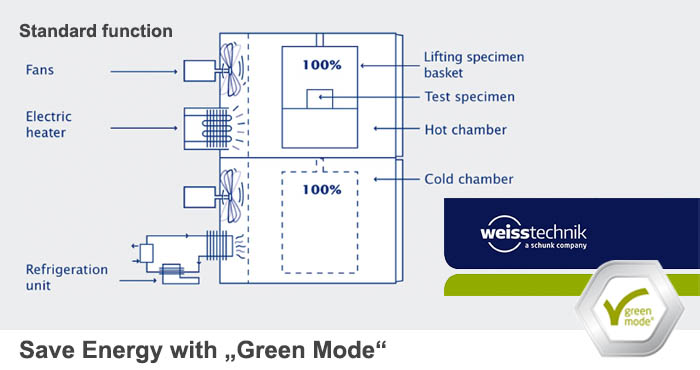 Green Mode activated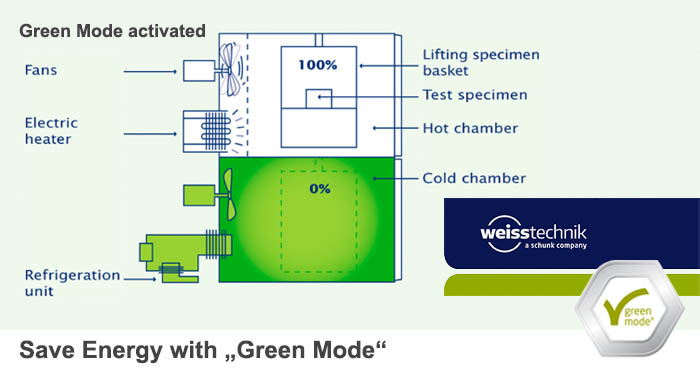 Savings through intelligent control
Shutdown of non-needed consumers
Optional additional hardware: timely activation of the corresponding chamber
New service
Energy counter (electric power consumption) –

Integrated

Visualization on Touch – Absolute value – Relative value

Recording with Simpati