Explosion-proof test chambers (ATEX)
Some specimens discharge inflammable substances. In correlation with air this may result in an explosive mixture. Special actions have to be taken to prevent explosion of this measure and to ensure a safe test run.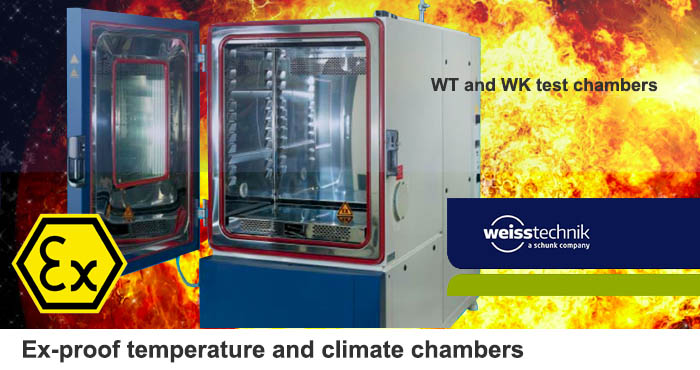 With the Weiss test chambers WT/WK- II 2 G EEx IIB T3 (ex-proof test space)
any tests can be performed during which an explosive atmosphere may be caused in the test space.

Main advantages
Advantages of the proven series WT/WK
Compact design – minimum space requested
Trouble diagnostics system to support maintenance and repair works
Ex-proof with EC-prototype inspection certificate acc. to rule 94/9/EG ("ATEX 100a")
Technical data
Test space volume: 480/800/1300 Liter
Temperature range: -40°C ... +160°C, -60°C ... +160°C
Humidity range: 10 … 98 % r.h., between: +10°C ... +95°C
Control system: Controller Board SIMPAC with Color-Touch-Panel
The Weiss Climatic Test Chamber WK-600/70 (I) - II 2 G EEx T3 (explosion-proof test space)
allows switching over from normal to explosion-proof operation. If activated, the explosion protection allows the performance of tests with explosive substances.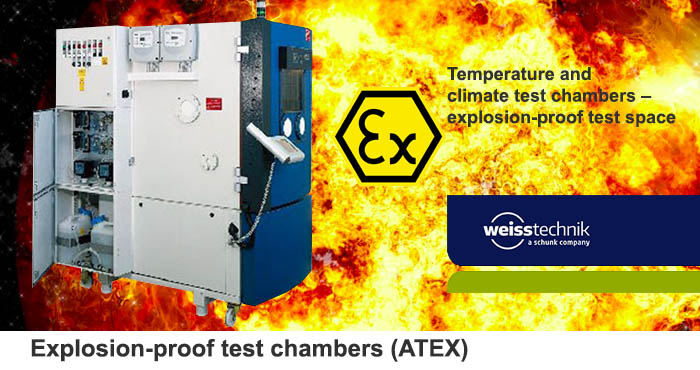 Two units in one
With activated explosion protection, the test chamber is classified into category 2, zone 1. With deactivated explosion protection regular temperature and climatic tests can be performed.
Main advantages
Advantages of our proven standard series WT/WK
Compact design – minimum space requirement
Easily accessible maintenance elements guarantee shortest service times
Flexibility and versatility by switching on/off the explosion protection
Control system: Controller Board SIMPAC with Color Touch Panel