Insect and plant growth chamber fitotron SGC
The innovative growth chambers with optimal fitosafe air supply ensure reproducible, uniform growth conditions. With 133 cm growth height, a webcam for remote monitoring, they set new standards on the market.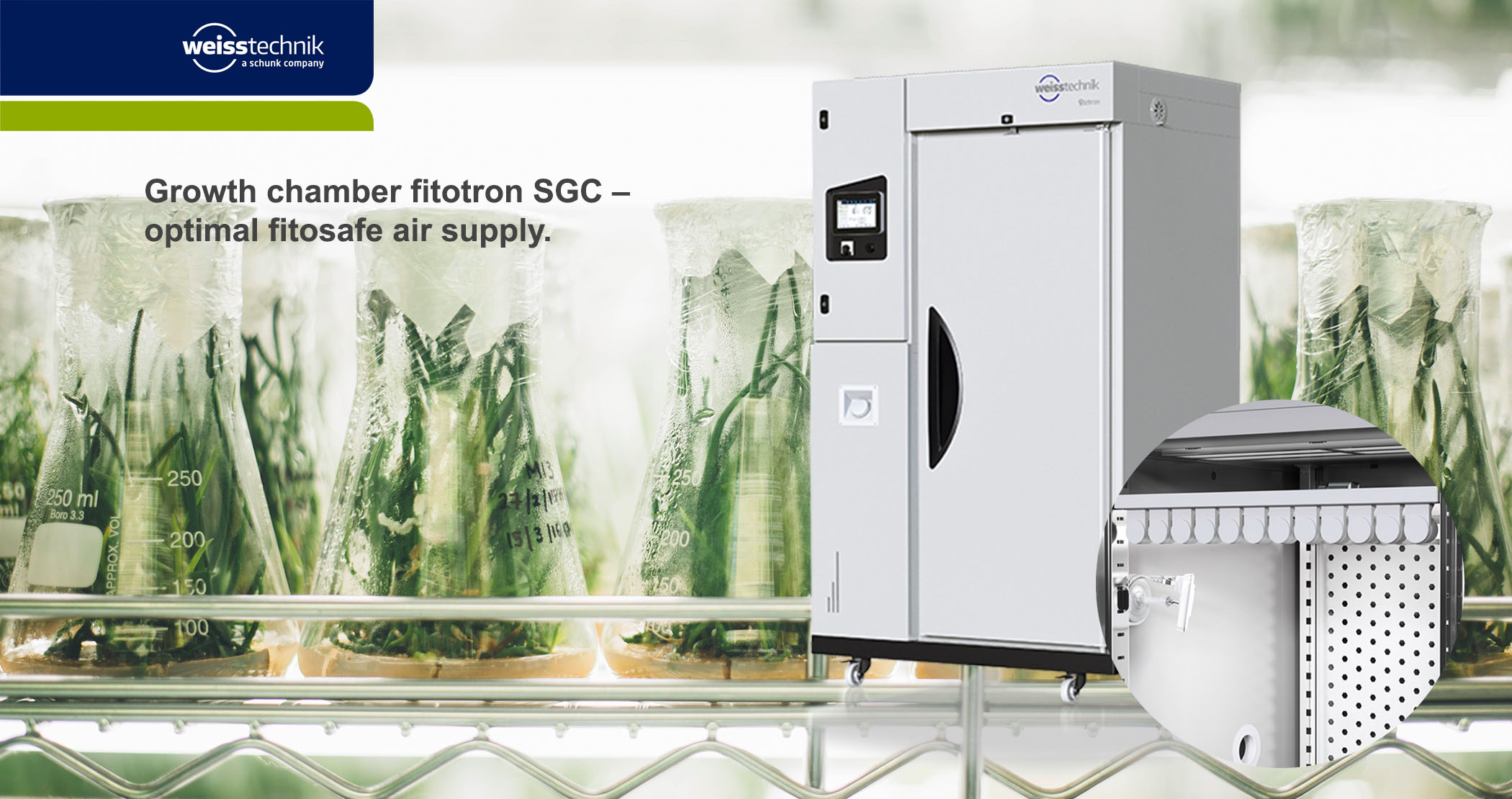 Webcam for external monitoring
To easily keep an eye on plants and insects at all times, the growth chamber can be optionally equipped with a freely positionable webcam. This makes it possible to quickly check the growth chamber at any time – from a PC or smartphone and even from home. In this way, the plant and insect growth chambers can be optimally adapted to the project requirements in modern laboratories and institutes.
Standard features
Maximum growth height 133 cm, for up to four trays of Arabidopsis
WEBSeason® Bio interface for easy configuration
Networking via Ethernet with S!MPATI® and building management software
Multi-user concept for simultaneous access by up to four users
Optimal fitosafe air supply for plant-friendly airspeeds
Contamination-free moisturization protected against the entry of microorganisms with deionized water
7" color touch display at an ergonomic working height
High-efficiency fluorescent or LED lighting
Continuous shelf surfaces for clean work and easy cleaning
 The newly designed chambers are available in three sizes and are optimally adapted to everyday project requirements in laboratories and institutes. One particular highlight is the optionally available webcam for web-based monitoring of the growth area.
Interior
Web-based access and multi-user control
WEBSeason® Bio allows four additional users access at
the same time. The network connection can be used to control and monitor the growing chambers externally, for example via PC, tablet or smartphone. In addition, WEBSeason® Bio can be opened remotely.
Optimal fitosafe air guiding adjustable and plant-specific airspeed ensures uniform transpiration and good CO2 and O2 exchange. The combination of four fresh air exchanges per hour ensures optimal growing conditions without causing stress for the plants. Together with
the contamination-free humidification, germ introduction is reliably prevented with deionized water.
Contamination-free humidification
The growing chambers precisely maintain the set air humidity, regardless of the outside climatic conditions. The unique contamination-free humidification system evaporates demineralized water in a very precise manner using the integrated 19-liter tank or the house connection via an aluminium heating block. The powerful dehumidifier provides drier climates when required.