Climate chambers (WK 3100) WK3 3100-H – Reproducible qualification tests in fast motion – VIDEO
Reproducible qualification testing of solar and photovoltaic units in WK 3100 climate chambers that are particularly suitable for solar and photovoltaic module testing due to their high construction design and spacious interior.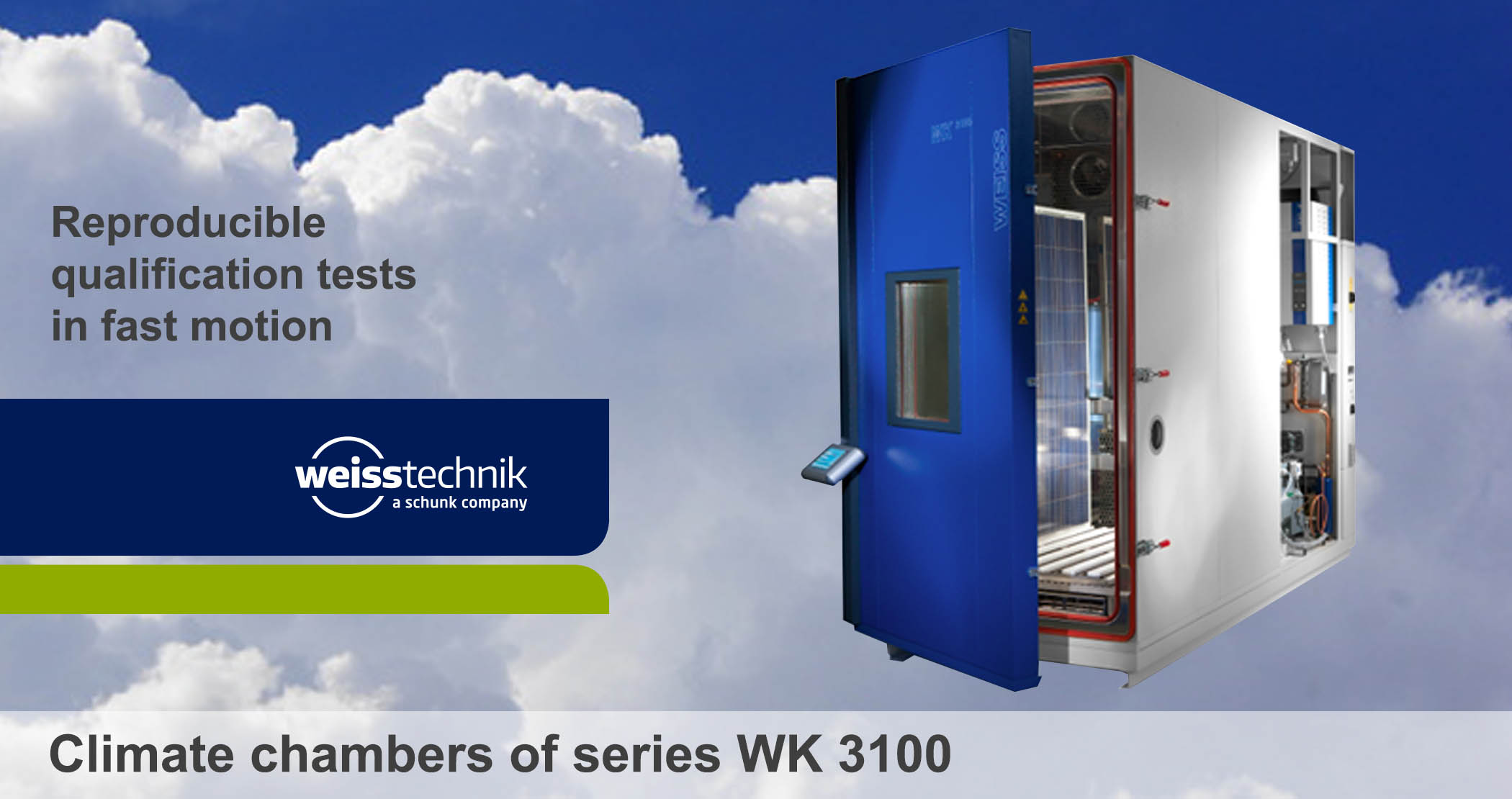 Climate chambers WK3 3100-70-5 H are especially suited for environmental tests of solar and photovoltaic modules with their high construction and available space volume.
Solar and Photovoltaic Units in Endurance Testing
 Climate chambers of series WK3 3100 of Weiss Umwelttechnik GmbH – expert for environmental simulation equipment.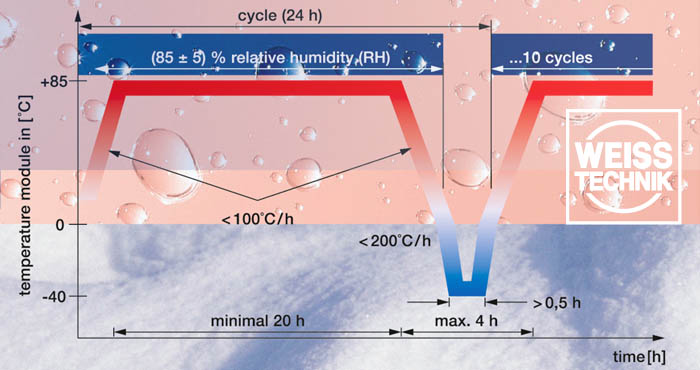 The objective of the environmental test in the laboratory is to detect the suitability and durability of these products for their estimated application under the influence of temperature and humidity. The laboratory tests must offer reliable conclusions in the shortest time possible. This is achieved by time laps which accelerates the impact of environmental stress which may occur during application.
Photovoltaic modules and solar panels are subjected to temperature and humidity tests according to respective standards EN 61215 or EN 61646 in the new climate chambers.
For material testing and approval and for the quality inspection during production process extensive tests have to be passed. This includes the humidity-heat test, humidity-frost cycle test and the temperature alternating test, all those tests can be conducted with series 
WK3 3100.


Despite of their size the test chambers WK3 3100 are surprisingly compact.
Due to its overall test space volume of 3100 litres, a test space floor that can bear the weight of a person and it can be loaded with solar panels in their original size (up to 2 m) the test chambers are a perfect choice for tests in the solar field.
The specimens are placed in an especially developed rack. The vertical routing of the air through the homogenously distributed air on the test space floor (perforated air) provides an excellent constancy, local and temporal, for the temperature conditioning of the panels; the high-capacity humidification system ensures fast adjustment of the relative humidity after the freezing phase.


The test space is made of special high grade stainless steel (1.4404), so that a long service life of the climate chamber is guaranteed even under the most challenging conditions for the test equipment.

The WK3 3100 is designed so that it exceeds the required temperature and humidity ranges for the standard tests.
So the temperature range reaches from -60°C to +180°C and the humidity range from 10 to 95% r.h.