WK2500 – Climate test chamber with extended test space (solar panels)
WK 2500 chambers enable the inspection of impact of heat and humidity on solar modules and panels. Having an inspection volume of 2500 litres and chamber floor accessibility it delivers almost the same performance as WT/WK series chambers.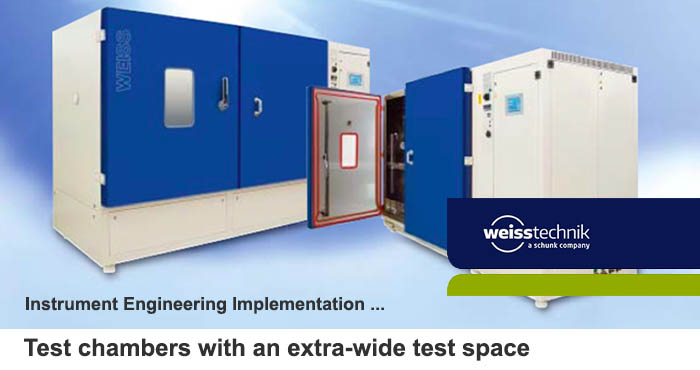 WK 2500 for testing photovoltaic modules and solar panels
These chambers are used to test photovoltaic modules and solar panels regarding temperature and humidity influence.
The current specifications can be fulfilled with the WEISS model WK-2500.
With a test space volume of 2,500 liters and accessibility of the chamber floor the WK-2500 reaches nearly the same performance data as a chamber of series WT/WK.
Technical data of type WK2500/60/2-S
Exterior dimensions: H2231 x W1300 x D3505mm
Test room dimensions: H1862 x W1100 x D1325 mm
Temperature range: -60 ...+180°C
Cooling down rate: 2,9°C/min (with 230kg solar panels)
Heating up rate: 2,5°C/min (with 230kg solar panels)
Climate working range: 10 ... 90% r.h., between: +10 ... +90°C
Refrigeration unit: Water-cooled
Control system: Controller Board  S!MCON/32*-NET with Color-Touch-Panel
Designed to fulfill the following specifications (with 230 kg solar panels)
Damp Heat Test (climate test +85°C, 85 %r.h.)
Humidity Freeze Test
Thermal Cycling Test