SENSOR+TEST 2016
Innovative exponents for future industry – From Sensors to Evaluation: A Comprehensive Overview of System Expertise for Measuring, Testing, and Monitoring Tasks in all Industries – Nürnberg, Germany, 10.-12. Mai 2016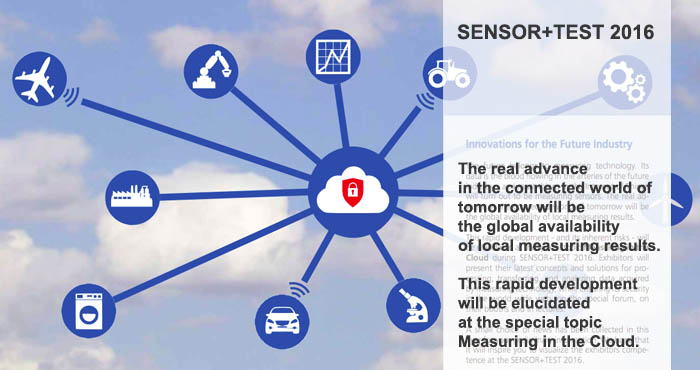 Special Topic "Measuring in the Cloud" 
The future belongs to measuring technology. Its data is the blood flowing in the arteries of the future industry – and most things in the Internet of Things will turn out to be measuring sensors. Furthermore, the real advance in the connected world of tomorrow will be the global availability of local measuring results.
SENSOR+TEST 2016 for Conference Attendees 
SENSOR+TEST is one of the major international scientific forums for sensors, measuring and testing technologies where researchers and other professionals from all over the world meet to discuss new technologies and the latest processes.
From simple microsensors to complex test rigs, from ready-to-use components to individualised services, the SENSOR+TEST represents the complete competence in measurement technology.
During SENSOR+TEST 2016 two top-class conferences will take place

8. GMA / ITG-Fachtagung "Sensoren und Messsysteme" 
This German-speaking symposium has become the most significant one in the branch of sensor technology. The conference will be held again parallel to the SENSOR+TEST. Conferences language: German
etc2016 - European Telemetry and Test Conference 
For the second time the European Telemetry and Test Conference – etc2016 will be held in Nürnberg, in collaboration with the SENSOR+TEST. The etc2016 - European Telemetry and Test Conference is the most important international platform for telemetry, test-instrumentation, telecontrol, and data processing.
Enterprises and institutes will present their innovative products, services and a plethora of solutions in hall 2.
The international conference will take place besides in hall 2.
In addition the etc2016 will host the 3rd Advanced In-Flight Measurement Techniques Symposium AIM
and the 27th Symposium of the Society of Flight Test Engineers SFTE European Chapter.