Electronica 2014 – electromobility, energy efficiency and sustainability
26th International Trade Fair for Electronic Components, Systems and Applications, Messe München, 11 – 14. November 2014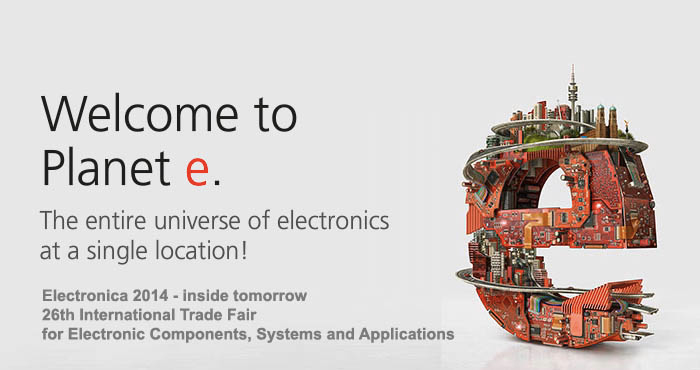 This unique industry event presents the state of the art in innovative electronics – a diverse range of components, pioneering hardware and software solutions and complete systems and applications – on 143,000 m² of exhibition space. It all revolves around the latest hot topics such as electromobility, energy efficiency and sustainability.
Electronica – the leading international trade fair, that
gives companies access to profitable markets and new branches of industry and lucrative sales potential,

showcases important technologies and makes new trends a topic of discussion - and provides global orientation in the process,

provides concrete perspectives and gives business strong impetus. 
The exhibitors present you, as a specialist of the electronics industry – from the automotive and industrial electronic via embedded and wireless to medical electronic and MEMS – new products and suitable solutions for today and tomorrow. electronica presenting itself with such a quality and quantity of participants means pure business  - and is therefore unequalled in the industry.
Visit our principal
Weiss Umwelttechnik GmbH, 

Simulationsanlagen – Messtechnik, 

Hall A1 Booth 438 
Product and service range 
Test systems, miscellaneous

Simulation software 

Aging test equipment 

Burn-in equipment 

Measurement cabinets and chambers 

Environmental simulation/test equipment 

Specialized laboratory/test equipment, miscellaneous 

Calibration/test equipment services
Areas of Application
Automotive 
E-mobility 
Electronics for railway technology 
Electronics for office and data-processing 
Electronics for aviation, aerospace and defence 
Electronics for other consumer goods 
Industrial electronics 
Medical electronics 
Photovoltaics 
Telecommunication, wired 
Consumer electronics, entertainment electronics
Other renewable energies 
Wireless