Fape +60 and Fape +60x2 – Formaldehyde test device

Detecting invisible dangers pursuant to EN 717-2 across automotive and processing industries.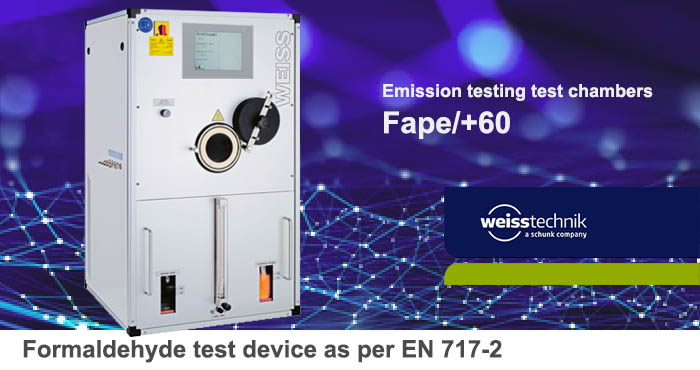 Fape +60
The test installation is used to determine the discharge of formaldehyde by substances which emit formaldehyde. The test requires a precise, reproducible determination of the possible subsequent formaldehyde discharge by wooden materials and components.
Fape +60 x2
The system operates similar to the FAPE +60, but is equipped with two test vessels, which can be used independently from each other. The interface displays the testing conditions of both vessels (one indication for each test vessel).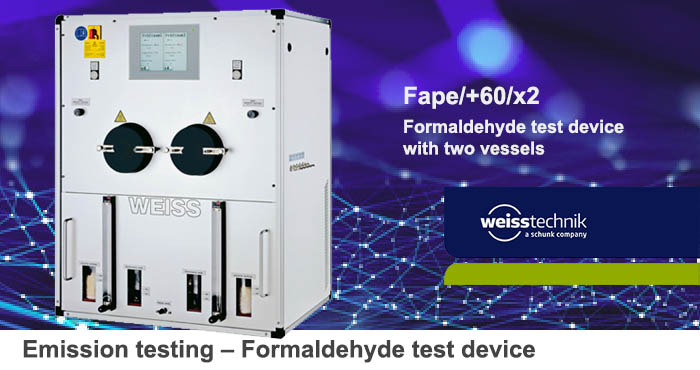 Application

Automotive

Wood Industries


Institutes and Laboratories 


Materials and Substances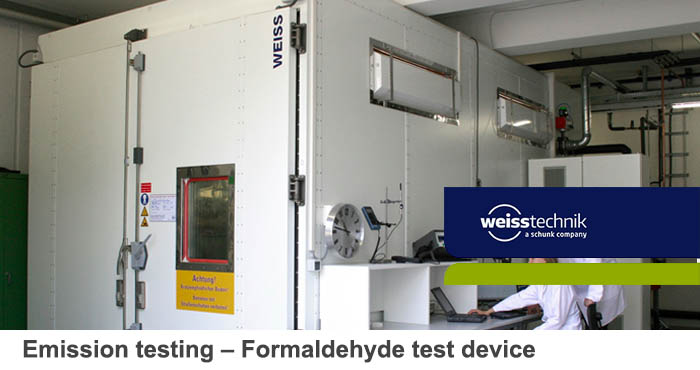 External dimensions
Height approx. 1050mm


Width approx. 600mm


Depth approx. 680mm
Test space dimensions

Cylinder Ø9 mm


Depth approx. 555mm


Test space temperature: Constant value +60°C


Temperature constancy: ±0.5K


Dew point temperature (with silica gel dryer) approx.: -6°C


Relative air humidity: ≤2% r.h.


Air volume: 60 l/h


Constancy of air volume: ≤ ±3 l/h


Solenoid valves, automatically reversible: 5 pieces


Supply voltage: 230 V; 1 Ph + N + PE; 50 Hz


Connected load: 1.5 kVA
Features

The test space air is heated to a constant temperature of +60°C ±0.5K and purged continuously with 60 l/h of temperature pre-conditioned air.

The components to be tested are deposited in the test chamber. The test chamber is designed as a gastight area.


It is temperature conditioned via the walls and a water pump circuit.


Leak-proofness of the test chamber is monitored via a pressure sensor and displayed on the touch-panel (operating console).

Setting of the overpressure is effected manually by means of a manual control valve (1000 – 1200 Pa).


In the test chamber, formaldehyde gas is mixed with the inlet air and led into washing bottles filled with demineralised water via the air outlet. The formaldehyde which has gassed out is dissolved in the water.


The routing of the outgoing air is effected by a five-fold distribution with solenoid valves. The air can be released freely into the atmosphere or it is routed via four separate pairs of gas washing bottles (not included in the scope of delivery) which are controlled by a timer.