SIMPAC advantages of web and software packages
The new SIMPAC Control Software is one of the most user-friendly control programs available.The design and functionality of S!MPAC is such that it allows users to spend minimal time on the complexities of programming and to concentrate on the test.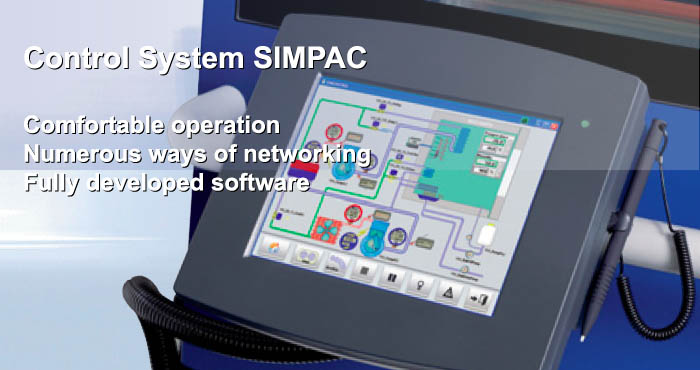 SIMPAC Control Software
Using a 12 inch, 8 inch, or 3.5 inch TFT colour touch panel, a wide range of user programmable options can be selected. Temperature and humidity conditions can be set at the touch of a button, in addition to day/night timings. Up to 100 programmes can be stored in the memory so that popular programs can easily be run.

The trend screen gives a graphical representation of the conditions inside the chamber. SIMPAC automatically alerts the user to any technical problems and can also display information for servicing of the chamber, such as the length of time it has been in use for example.
Additional features include
Limit value monitoring system – for temperature and humidity
Diagnostic system – for information on operating times and possible operational failures
Serial interface RS 232C – for connection to a host computer system or networking
USB interface – for data exchange via USB stick or as printer interface
Ethernet interface – for embedding into the network

SIMPAC Web
SIMPAC Web is a web server provided with every SIMPAC controller board, featuring
Chamber information

e.g. construction info (type, equipment number), software version information and status information (errors, maintenance state)
Manual operation: e.g. setpoints, start/stop tests, option
Automatic operation: e.g. start/stop programs and create/edit programs
Password protection: web pages and a service area
Flexible user management: up to 5 users can be specified and up to 10 web pages/directories can be protected
Advantages of the SIMPAC Web package include
Free with every S!MPAC controller board
No extra costs
No program installation necessary
No hardware panel necessary
Works with many browsers
Password protection
Unified service area for S!MPAC controller board