Walk-In corrosion test chamber SC

In this chamber test specimens are exposed to salt spray or condensed water. Tests performed under these conditions provide valuable knowledge of the corrosion behavior of materials.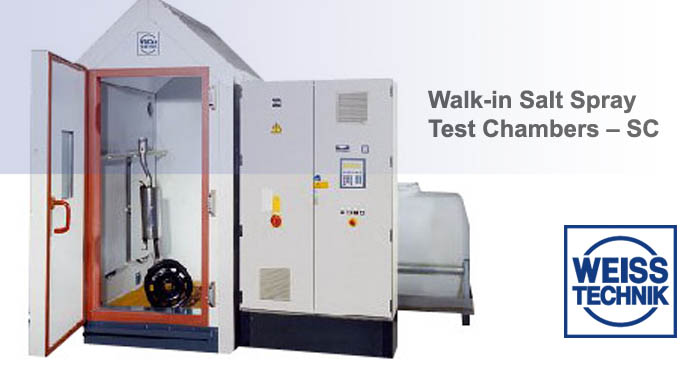 The system comprises of three major assemblies: test chamber, brine solution storage tank and switch cabinet. The brine solution storage tank can hold 600 or 1000 litres. Thus, long term tests lasting for several days are feasible.
Areas of Application
Automotive

Electronics

Institutes and Laboratories

Materials and Substances

Renewable Energy
Main advantages
Corrosion-resistant interior surfaces made of GFK, shock and scratchresistant
Exterior surface made of aluminium, white coated

Homogenous temperature-conditioning of test space
Service-friendly thanks to easily accessible functional units

Self-supporting hard foam elements that can be assembled on site
Modular design allows for different chamber sizes
High floor load of test space
Sprayed brine volume can be set and measured from outside

 Control system: Controller Board SIMCON/32-NET with Color Touch Panel