Corrosion testing with salt spray testing systems VSC
A very important feature of Salt Spray Testing Systems VSC is the ability to perform accelerated tests for achieving specific corrosion stress conditions.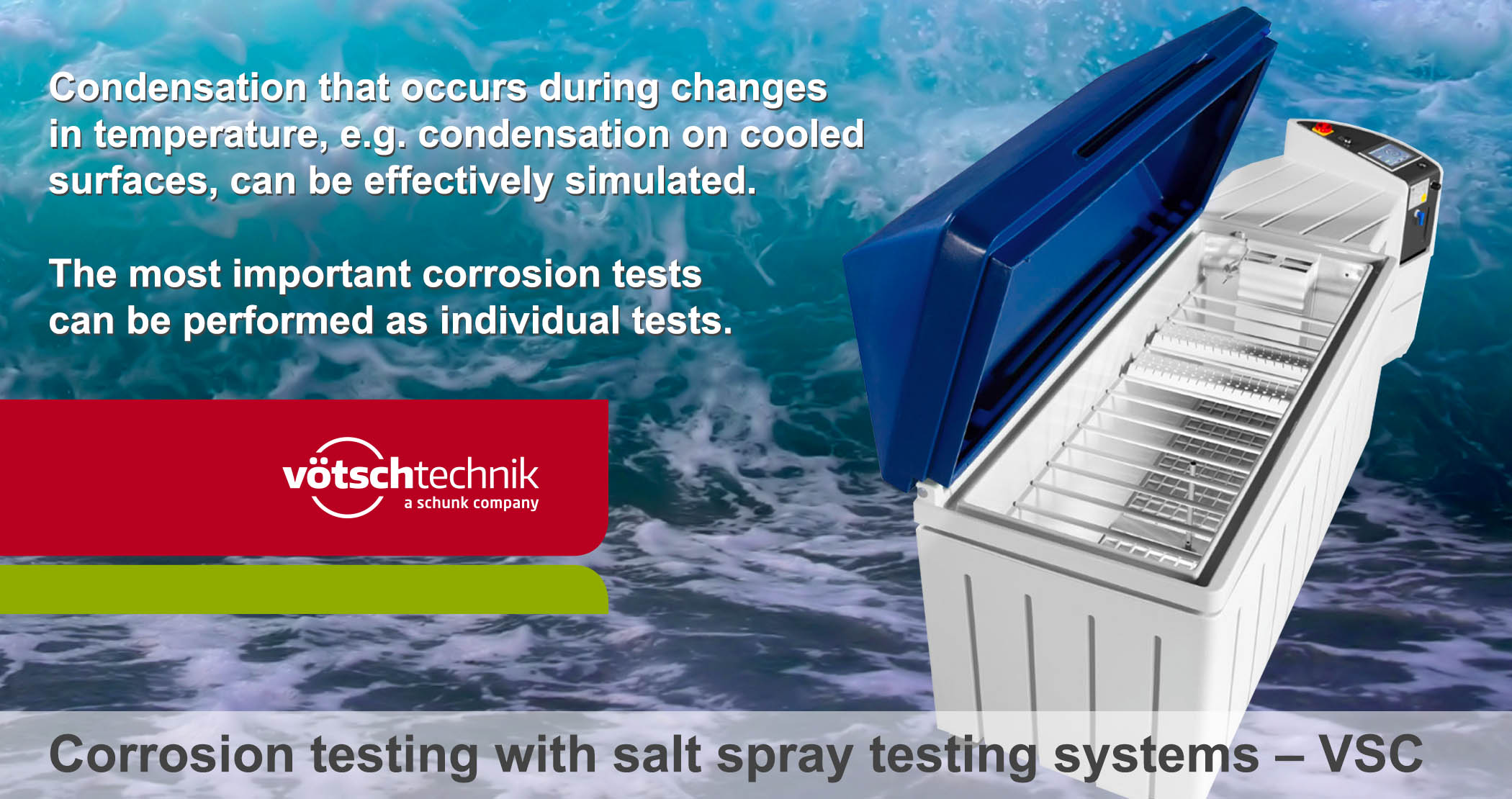 The units of salt spray test chambers allow selective and reproducible accelerated corrosion testing complying with the requirements of relevant national and international standards such as DIN, ISO, EN, IEC, ASTM, DEF, MIL-STD, etc.
The wide opening test chamber hood allows for loading heavy or bulky test specimens from the top. Two standard sizes are available.
Features
Corrosion resistant housing made from recyclable polyethylene
Acrylic glass nozzle in spraying duct for optimum spray fog distribution
Robust construction
Good thermal insulation; the choice of materials guarantees long service life
User-friendly, variable positioning for test specimens
External heating of test chamber using safe 42 volt system
Test specimens may also be lifted into the test chamber by crane thanks to the lightweight test chamber hood which opens to 75°
Hydrostatic hood seal
Ergonomic arrangement of operating panel and display instruments
Operation, program and set value selection via colour touch panel
Digital displays of set and actual values
Digital fill level display on the operating panel
Long-term tests are no problem thanks to the 180 litre capacity brine reservoir
Easily filled with brine through a front-mounted, 125 mm O filler opening
Ready-to-plug in, modular construction. Hence no need for assembly or commissioning on site
Test chamber design provides ease of service, all parts are easily accessible through the light-weight, removable machine compartment hood.
Application
Salt Fog Test DIN EN ISO 9227 - DIN 50 021
Condensed Water Test DIN EN ISO 6270-2 - DIN 50 017 and EN ISO 6988 - DIN 50 018
Standard Climate Test DIN 50 014, Clause 5 Ambient Temperature