VCC3 test chambers for testing the corrosion characteristics of materials
To prove the resistance of the technical products to corrosive gases, Vötsch Technik developed the corrosion test chambers and cabinets series VCC3.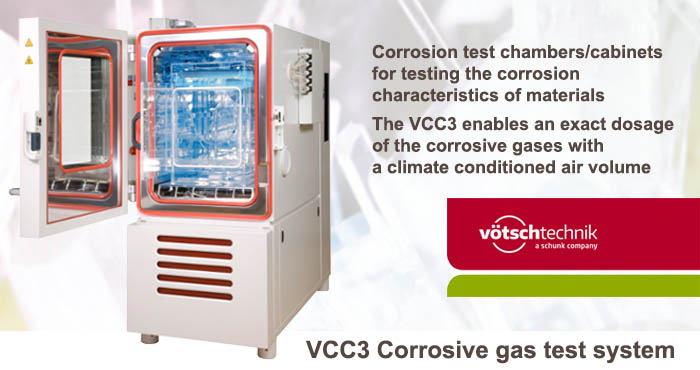 The VCC3 enables an exact dosage of the corrosive gases with a climate conditioned air volume. The main constituents of the corrosive, atmospheric trace elements are: sulfur dioxide (SO2), nitrogen oxide (NOx), hydrogen sulphide (H2S) and chlorine gas (CL2).
Features corrosive gas test system
Gas dosing with thermal mass flow controller, concentration ranges from ppb to ppm

Inner test cabinet with connection for gas sampling and entry port NW 50mm

Air exchange rate in inner test cabinet can be set between one and four per hour

Door with window included in basic equipment

Specimen can be observed (inner test cabinet is made of acrylic glass (PMMA))

Up to four gasses can be dosed simultaneously

Inner test cabinet, shelf and door are made of acrylic glass

Pressure monitoring between inner test cabinet and outside as a safety feature

Compliance with test standards such as IEC 60068-2-60, IEC 60068-2-42/43, ISO 21207 and others
Test gases
H2S

SO2

Cl2 with carrier gas N2 (nitrogen)

NO2, with carrier gas synthetic air

Other test gases on request

Standard version climate test cabinet
The basic unit consists of a test system of series Climate 3000 with 340, 600 and 1000 liters.

Standard version corrosive gas system
Cabinet extension (firmly mounted at the left side of the cabinet) including
1 gas dosing line with thermal mass flow controller and feeding line leading into the gas container

Gas distribution system

Purging gas line

Air change system

Pressure guide
1 auxiliary cabinet made of PMMA (120l, 270l, 380l) including
Support grid of PMMA

Sample gas connection

Entry port at the right side, Ø 50mm

Door made of PMMA

Commissioning, functional test and test run in our company